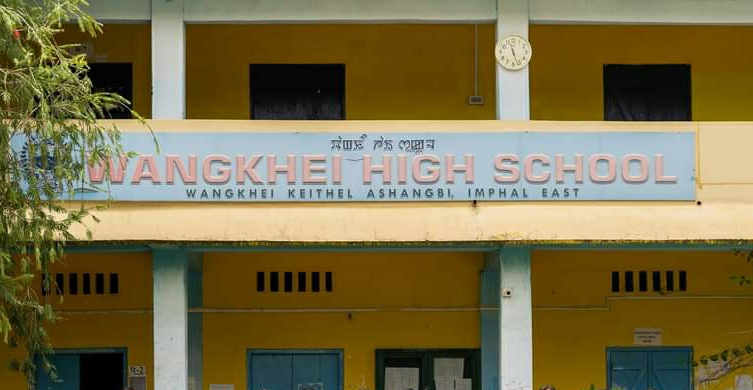 TMB Report
Parents make beeline at Wangkhei HS for admission
Imphal: It is the wish of every parent to get their children admitted in private schools where there is no dearth of infrastructure and other educational facilities. While some parents managed to get admission of their child in reputed private schools incurring hefty costs, many are left broken-hearted due to financial crunch, thus compelling them to seek admission of their child in government schools.
But things have changed now as government schools in the State are performing at par with private schools. The changing face of government schools in the State can be attributed to the introduction of the School Fagathansi Mission which aims to rebuild the physical and manpower infrastructure of government schools.
As witnessed in sought-after private schools, parents are making a beeline at government-run Wangkhei High School for admission of their child. Notably, many Demi Official (DO) letters from Ministers and MLAs were shot off to the school principal seeking consideration of admission. With no options left, entrance tests were conducted by the school for the selection of students owing to an excess number of applicants.
Erstwhile known as Wangkhei Girls High School, the school was converted into a co-ed model school during the then Congress government. After the formation of the Biren-led government, the school was renamed as Wangkhei High School and came under the ambit of the School Fagathansi Mission to get a facelift.
The school has students from Class I to X. There is only one section in Class I up to V with each section having more than 100 students. Despite facing lack of infrastructure, applications for admission in the school have been pouring in. There are two sections in Class VI up to Class X. The school has already issued a notice fixing April 12 and 13 as the dates for admission.
As popularity of the school continued to grow, the school principal received many DO letters from the side of Ministers, MLAs and influential persons seeking admission of 20/30 students belonging to their respective constituencies in different Classes.
Amidst the tight accomodation of students, the school authority had decided to allow admission of additional students for each Class. As per their decision, the entrance test for admission was conducted on April 6 and after declaration of the results, parents thronged the school campus to check whether their children were included in the list or not.
23 students for Class II, 21 for Class III, 36 for Class IV, 32 for Class V, 41 for Class VI, 34 for Class VII, 27 for Class VIII and 6 for Class IX were selected in the entrance test.
Even though additional students were selected on demand, it will be a tough task for the school authority to accommodate the students and ensure smooth conduct of classes.
Wangkhei High School is considered the best performing government school in Imphal East. There is no shortage of qualified teachers in the school. However, inadequate infrastructure has impacted the school when it comes to increasing intake of students.
Notwithstanding the lack of infrastructure and other facilities, the increased number of parents and students showing willingness to study in the government-run school can be regarded as one of the notable achievements of the present government.
Mention may be made that Chief Minister N Biren Singh launched the School Fagathansi Mission at a function held at Yumnam Huidrom Government High School in Imphal West district. The scheme was introduced with an ambitious objective of giving renewed thrust towards the improvement of government schools both in terms of physical and manpower infrastructure.