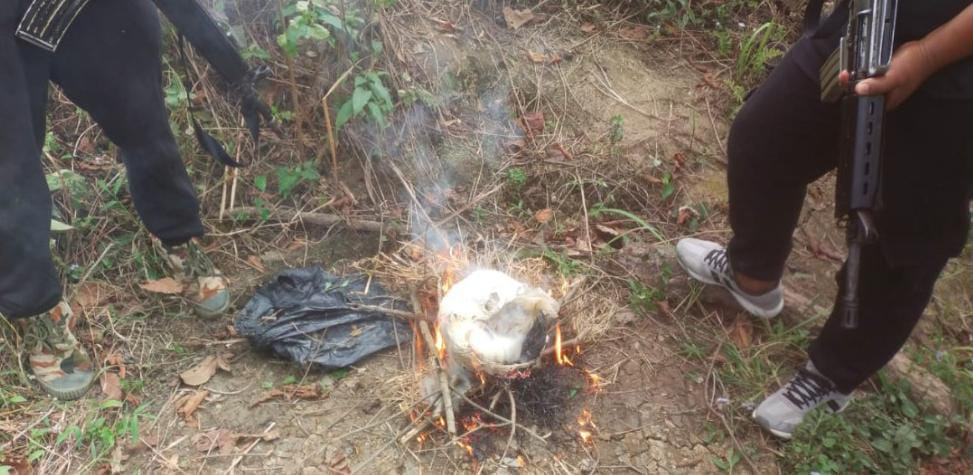 TMB Correspondent
Kangpokpi: The non-SoO Kuki militant outfit, the Kuki National Front-Nehlun (KNF-N) group apprehended a few drug peddlers and seized 2 Kg of Brown Sugar from their possessions along the Imphal-Dimapur road on March 30.
According to a press release issued by the outfit's Information and Publicity Secretary Gou alias Kuki, the Anti-Drugs Cell of the outfit apprehended the drug peddlers along the National Highway-2 (Imphal-Dimapur) road at around 8.30 am on March 30 and seized 2 Kg of Brown Sugar from their possession.
It conveyed that the outfit had burnt down the seized substances and released the drug peddlers safe and sound after giving strict warnings not to indulge again in drug business.
While urging all and sundry indulged in such drug business to immediately stop their menacing business, the outfit strongly warned that if all it happens to apprehend drug peddlers in the future befitting punishment will be awarded and no one shall hold responsibility upon the outfit.
It also highlighted the destructive impact caused by drugs and narcotics substances on the youths who are the future pillars of the nation.
Meanwhile, the outfit informed that it has released its PRO Letkhothang alias Thangboi Kipgen from the organisation on medical grounds as per its cabinet resolution.
It also appealed to everyone to forgive and forget any mistake committed by its PRO during his time in the outfit while urging not to cause any harm or humiliation to him after releasing him from the outfit to live as a common man.
KNF-N also appealed to the security forces and various other underground groups not to harm or cause any disturbance upon him but rather let him live a peaceful life.