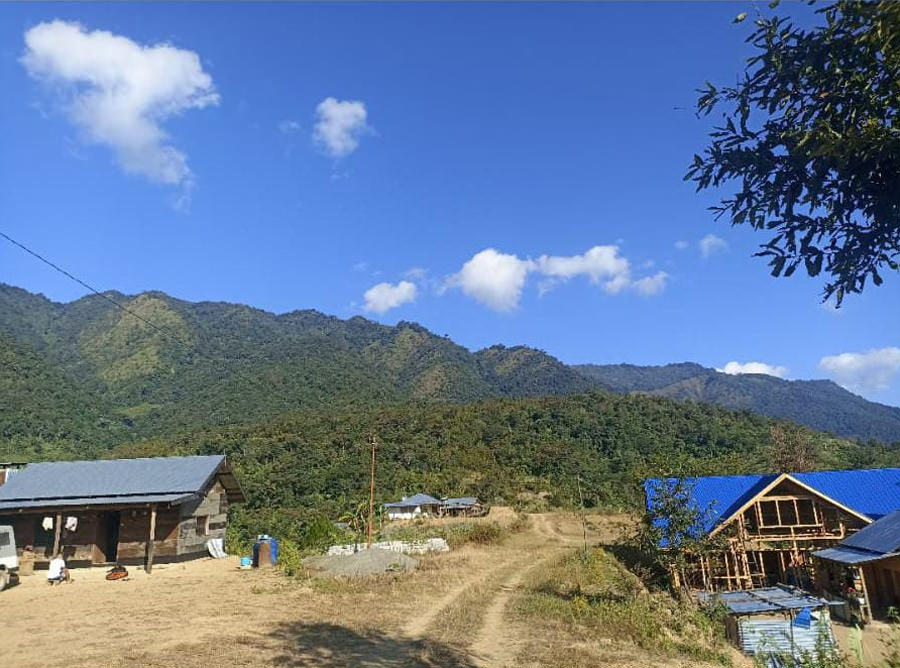 Raiping Keishing 
Imphal: Tingsong, a Tangkhul village under Karong AC in Senapati district, which is 93 Km away from Imphal is reeling under hardships owing to poor development in almost sectors.
The village is still in a pathetic condition despite various schemes implemented by the Central and State Governments to uplift the backward village, communities, families. At present, the village has around 320 households with a population of around 1200. The main livelihood means of the villagers is poaching, piggery, cattles and jhum cultivation.
Talking to the Morning Bell,  Chief of Tingsong village Ngahanpam Vashum said that the village is still lagging behind in almost sectors including health, education, road connectivity so on and so forth.
He, however, admitted that the village is enjoying certain benefits under Mahatma Gandhi National Rural Employment Guarantee Act (MGNREGA), National Food Security Act (NFSA) and Mid-Day Meal (MDM) under the National Programme of Nutritional support to primary education.
When queried about education, he said that the village school is in pathetic condition due to lack of intervention from the concerned authorities.  
He said that although the government initiated Go to Hills mission to reach out benefits to the citizens at their doorsteps, to explain about government programmes and its benefits, to ensure timely delivery of services to eligible beneficiaries and address public grievances problems, the mission turned to a farce when it comes to Tingsong village as it fails to benefit the people in remote hill areas. 
Highlighting various inconveniences and problems faced by the villagers due to shortage of health facilities, he said that the villagers have to travel a long way to get medical facility. 
He said that the village authority had earlier approached the concerned authorities to improve health care facilities in the village but government fails to take up any positive measures to do the needful till date.
He said that the village authority has been pleading with the concerned department to develop health centres in the village with the engagement of adequate staffs but the plea fell on deaf ears.
The villagers are also facing hardships in transportation due to the dilapidated road condition, he said, drawing the attention of the concerned authorities to look into the matter at the earliest and take up necessary steps for the road construction or road repairing.