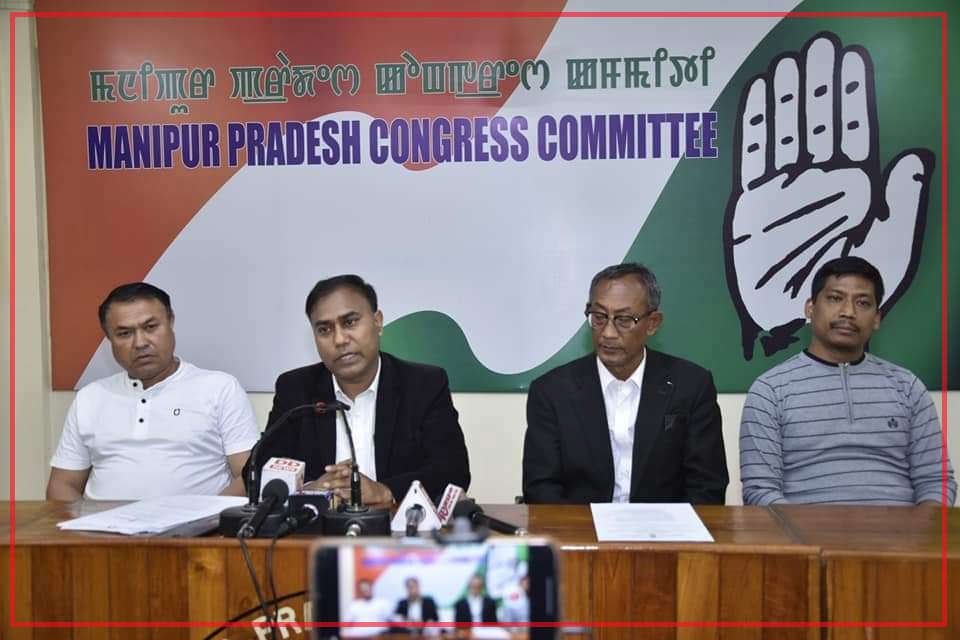 TMB Report
Imphal: Manipur Pradesh Congress Committee (MPCC) has demanded the State Government to stop recruitment of Group C and Group D post of the government until the Chairman and necessary staffs of the Manipur Staff Selection Commission (MSSC) are appointed.
Addressing reporters at Congress Bhawan here on Wednesday, MPCC Spokesman Rabi Khan slammed the government for failing to make the Manipur Staff Selection Commission function properly.
He recounted that Manipur Staff Selection Commission Act and Rules was passed in 2022 and necessary gazette notification with regard to enactment of the commission was also published in the same year.
Recruitment of employees under Group C and Group D is to be done under the rules of the commission. The Congress has repeatedly been demanding the government to make the commission function by appointing its Chairperson and required members. However, the government has failed to activate the commission, he said.
He said that in the recently concluded Assembly session, MPCC President and MLA K Meghachandra had questioned as to why the commission has been made defunct till date. He claimed that despite enactment of the Manipur Staff Selection Commission Act and Rules, various departments of the State Government, including Education, Health, Police and Fire Service are conducting recruitment by itself.
On December 20, 2022, MPCC Legal Department served a legal notice to the Chief Secretary with regard to the departmental recruitment process defying the commission rules, he conveyed.
Rabi Khan said that the Congress also fully supported the passage of Manipur Staff Selection Commission Act sensing that recruitment of employees through the Staff Selection Commission will maintain free and fair recruitment and curb corrupt practices.
He said that the future of the State is bleak and several youths will get frustrated if the departments continue to conduct recruitment on its terms. Charging the Biren-led government of not paying heed to the voice of the people and the Opposition, the Congress Spokesman contended that the present government is bound to listen to the voice of a party which has served the people for 15 years at its best.
The government will render meaningless if it fails to listen to the voice of the people. Many people who can't speak up against the government approach the Congress party to air their voice to the government. Whatever the Congress speaks represents the voice of the voiceless. Many get victimized when the men in power do whatever they like, he asserted. He also contended that the weakness of the government is clearly evident from the sheer failure to implement an Act passed by it.