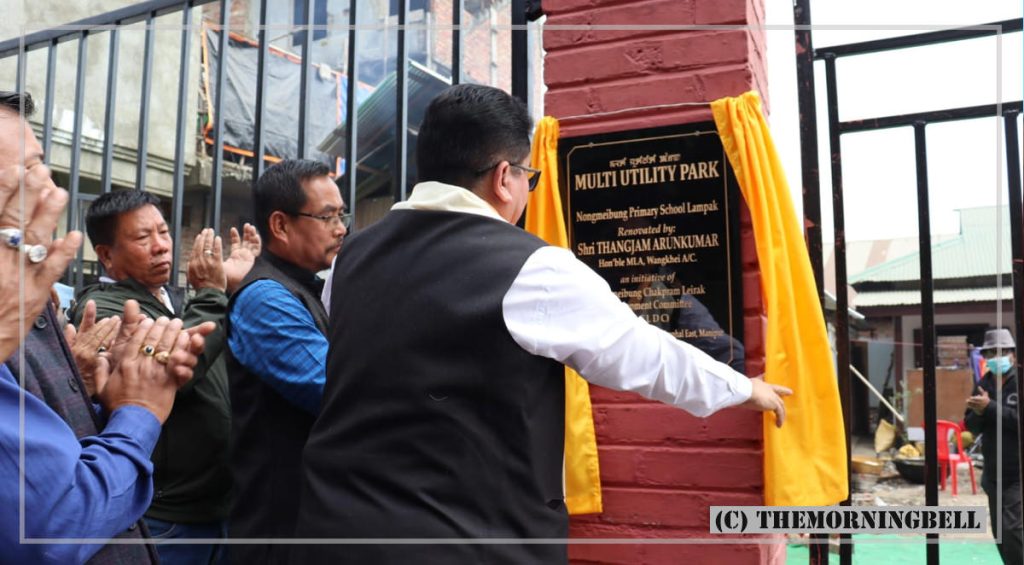 TMB Report
Imphal: Wangkhei MLA Thangjam Arunkumar has assured to bring overall development in Wangkhei AC.
Attending the 5th Foundation Day celebration cum General Body Meeting 2023 organised by Nongmeibung Chakpram Leirak Development Committee (NCLDC), MLA Thangjam Arunkumar said that the school which was once a dumping site has now been developed into a utility park, for which he appreciated the initiative of NCLDC and the locality for the community for the development. He said that there will be complaint for the development of the site into a park however, after much consideration the decision was taken.
Maintaining that the present government has taken the initiative for school development, he said that he, being an MLA, has taken up initiative to develop the schools in the constituency. He said the park will be useful for elderly people and kids for taking resort and play in the evening. Stating that he has been taking initiative to develop schools in his AC under school fagathansi mission, he has been closely monitoring the problems of the schools in the constituency. Noting that the Nongmeibung area has faced flooding during rainy season, he assured that he would also look for ways to settle the problems. He will also discuss about it with Kshetrigao AC MLA.
With regard to shortage of drinking water i his AC, he that he has earlier constructed seven water reservoirs in the constituency to cope up with the shortage. If chingkhei ching project is fully commissionrd, shortage of water can be solved hands down.
He said that it is his dream to establish an electronic crematorium in the AC after removing the crematorium constructed in the river banks as the remains of riverside crematorium and it's waste is dumped into the rivers. The multi utility park at Nongmeibung Primary School Lampak was also handed over toto Nongmeibung Chakpram Leirak Development Committee for its maintenance by the MLA.
The programne was attended by Chakpram Rupachandra Singh, Chairman of NCLDC as President and Nongthombam Indrajit Singh, President of Eastern Students' Club, Nongmeibung as guest of honour.