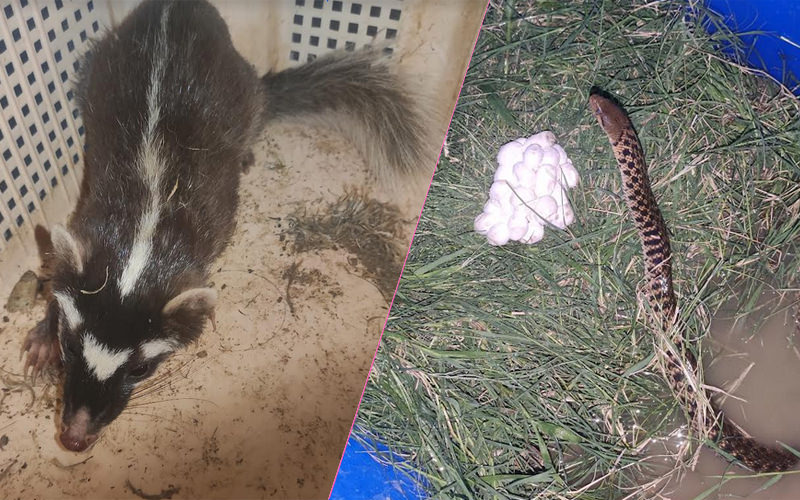 TMB Correspondent
Thoubal: People For Animal Manipur has reacued a rare  Chinese Ferret Badger  from Tentha Mayai leikai, Thoubal district on Tuesday.
Accoridng to L.Biswajeet meitei,Managing Trustee, PFA Manipur, the poor Chinese Ferret Badger was spotted by one Brahamchari mayum Rashi devi on Monday night near a coops which is built at the back side of her house located at Tentha Mayai leikai.She came out from her house and did inspect at the site after hearing chickens' noise and mewing by a cat loudly.
When she found the animal at that hour,she was suspicious that the poor animal might be killed if met by some other people or dogs and therefore she caught the animal by using a Long ( a bowl shaped fishing trap) and handed over to PFA Manipur on Tuesday, Bisojit stated.
He added that the rescued animal got a minor wound at its nose, so that it will be kept at the animal shelter of PFA Manipur till it get recover fully and will be released at its habitat place.
Bisojit mentioned that Chinese Ferret Badger is a rare animal which is listed in the scheduled II of Wildlife Peotectein Act and also in the least concern category of IUCN.Chinese ferret badgers normally eat fruits, insects and tiny animals as their food.They help in seed dispersal inside the forest and also help in lowering insects.
Meanwhile, a Checkered keelback which was kept at the animal shelter of PFA Manipur and waiting to release at its habitat place laid eggs on Tuesday.The reptile was rescued from the campus of Waikhom Mani Girls College Thoubal on last Thursday and later handed over to PFA Manipur and since that day it has been keeping at the animal shelter of PFA Manipur.
Naturally, such checkered keelback have a dissimilar with other reptiles that they guard the eggs untill  hatch. Bisojit informed that the rescued female checkered keelback won't be released for the time being as it takes nearly  50 days in hatching.The reptile and eggs  were kept under a suitable condition of hatching.Tempartaure and humidity will be marked daily.After hatching both mother and babies will be relaesed at its habitat place, Bisojit informed.
It may be recalled here that   such checkered keelback hatched successfully at the animal shelter of PFA Manipur in the past for the first time being. Checkered Keelback is a kind of cobra  listed  in the scheduled II of Wildlife Protection Act.They controlled the population of frogs and other water animals and in return they are the food items of snake eating animals and thus  plays a major role on conserving biodiversity.