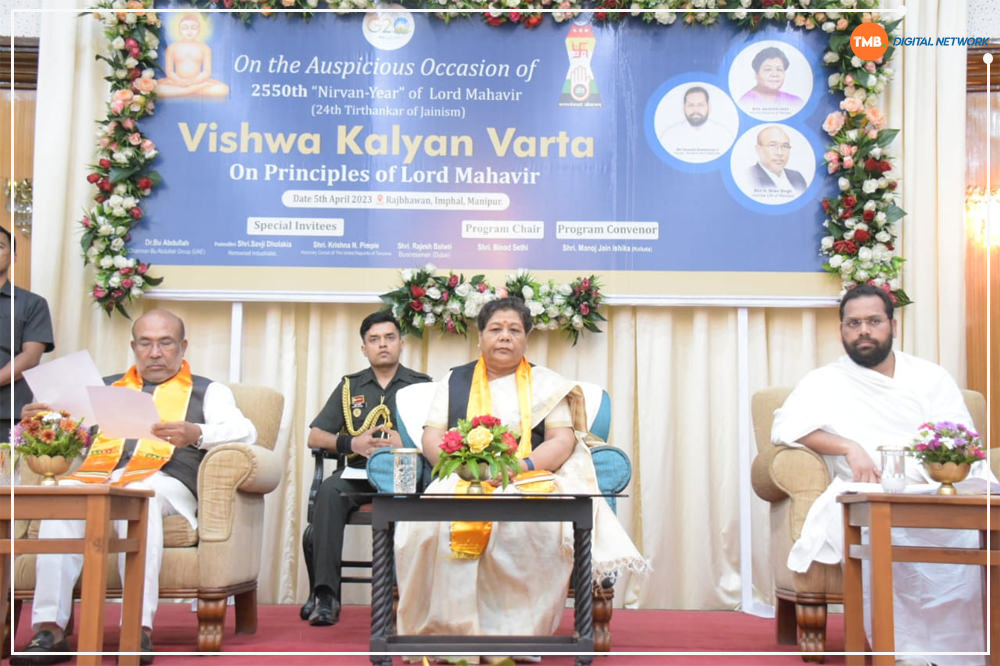 TMB Report
Imphal: Governor Sushri Anusuiya Uikey has said that the idea of non-violence, restraint and penance is worth practicing and those who are practicing it are religious. The Governor was speaking at Vishwa Kalyan Varta, organised on the occasion of the 2550th "Nirvan-Year" of Lord Mahavir, held at Darbar Hall in Raj Bhavan on Wednesday.
The Governor said that "Live and Let live" is the only message of Lord Mahavir which is the best gift for humanity. She said that keeping it in mind, a person can feel free himself from evil thoughts.
We may belong to any religion, creed or sect, but this message is meant for every living being. Lord Mahavir in his discourses laid maximum emphasis on Dharma, Satya, Ahimsa, Brahmacharya and Forgiveness. Sacrifice and restraint, love and compassion, modesty and virtue were the essence of his discourses, she added.
The Governor said that we are blessed in a country where incarnations like Gods and Godesses and Tirthankar Lord Mahavir Swami took birth and purified this land. Let the messages of Lord Mahavir help to spread peace, sacrifice and overall prosperity to the State of Manipur, the Governor added.
The Governor continued that we have a number of sages and saints who have been spreading messages, principles and teachings to the people. She said that Devendra Brahmachari is also giving his contribution towards the society and the country. Following the religion of Sanyas, he is working for the benefit of different sections of the society by teaching harmony and unity, she added.
Chief Minister N. Biren Singh while attending the event said that the people of the Jain community in Manipur are peace loving, hard working and have patience. He said that the message of Lord Mahavir teaches us the idea of peaceful co-existence and togetherness.
He said that different communities are living together peacefully in the State and many people have dedicated their lives for the cause of mankind with a message of peace, love and harmony. It is because of their dedications, we are able to live together, the Chief Minister added.
The Chief Minister also mentioned the dedication and hard work of Prime Minister Narendra Modi towards making India a strong nation.