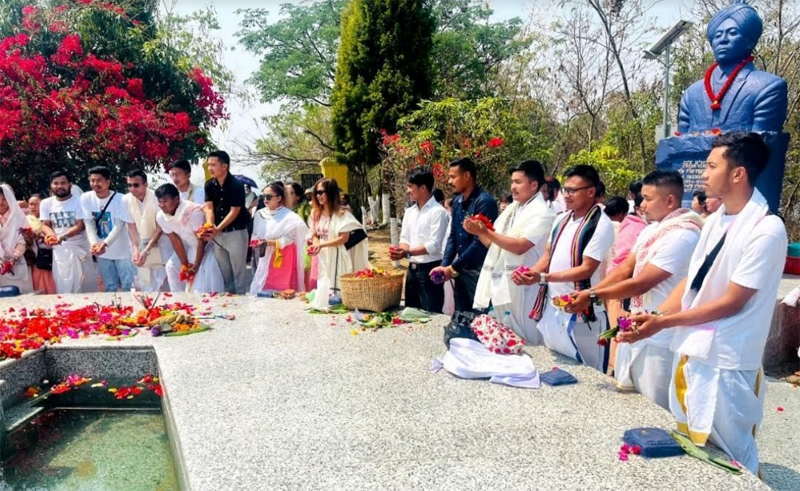 TMB Report
Imphal: Hundreds of people paid homage to the martyrs of the underground Revolutionary People's Front (RPF)/ People Liberation Army (PLA) on the occasion of the outfit's Athouba Singgi Numit (Martyrs
Day) on Thursday.
Since morning people turned up and paid homage to the martyrs of the underground RPF/PLA at the memorials located at Cheiraoching, Imphal despite the heavy presence of police and security forces. Family, relatives, friends and well-wishers belonging to various ethnic groups of the state were seen paying floral tributes to the departed cadres at Cheirao Ching amid the presence of large security personnel.
The visitors also paid tributes to the statues of four freedom fighters of Manipur (Thangal General, Paona Brajabashi, Bir Tikendrajit and Hijam Irabot) erected at the memorial complex.
On the other hand, leaders of various CSOs and student visited Kodompokpi in Imphal West where the infamous 1982 firing incident took place and paid floral tributes to the martyrs. The "April 13 Athouba Singgi Numit" was also commemorated at the memorial site of seven PLA cadres who were allegedly killed in the 1981's July Tekcham firing incident in Thoubal district. In the evening, candles were lit along
the streets in some localities in Imphal under the supervision of their respective Meira Paibis and local clubs as a mark of respect to the departed souls.
On the other hand, the proscribed Revolutionary People Front has lauded the people for offering tribute on the occasion of Athoubasinggi Numit.
The Outfit lauded the local Clubs, Associations, Organizations, Bar Associations, students and teachers of School, Colleges, employees of the Government and Private institutions for offering tribute to the 'martyrs' on the day. It also showed gratitude to the scribes, Medical team, Manipur Police and Traffic Police who took care for the visiting people to offer tribute.