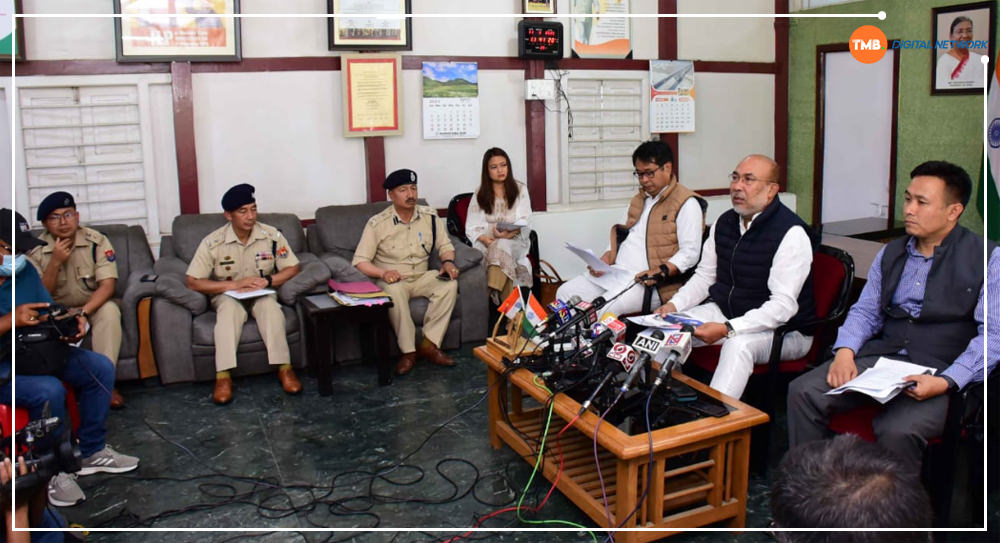 Imphal (DIPR): Chief Minister N. Biren Singh on Friday informed that nine officials of the Revenue Department, Government of Manipur, had been suspended for manipulation of land records.
The suspended officials included Kh. Goverdhon Singh, MCS, Samson Huidrom, MCS, G. Chinglensana Kabui, L/A SDC, M. Sanatomba Singh, Mandol, L. Biswanath Singh, Mandol, Md. Hassan, Mandol, T. Hemjit Singh, Mandol, O. Munal Singh, Retd. Mandol and Md. Jahangir, Retd Mandol.
The Chief Minister was briefing the media at the Chief Minister's Secretariat on Friday on issues regarding illegal transfer of land, issue of patta at forest and Government land, illegal manufacturing of Indian Made Foreign Liquor (IMFL) at Thoubal and Forest fire at the hill range of Kongba Maru Laiphamlen.
Biren continued that the State Government had been taking up various measures to address certain issues, which had been major causes of deteriorating condition of the State. He expressed that governance is not just development of infrastructures, but also taking up activities for the betterment of the future generations and preservation of the environment.
Mentioning the responsibility of bureaucrats and the people's trust towards them, he instructed all the officials of the State Government to render their service sincerely and dedicatedly and also to refrain from committing any wrongful activity.
He also asked to voluntarily come out and rectify any wrongful deed, if committed earlier, before the Government starts taking up legal actions against them.
Biren expressed his satisfaction to the judiciary of the State for their cooperation in the Government's initiative to take up legal action against offenders of law. He further appealed to the public not to lobby any Government officials for getting their work done, adding that the State Government is standing strongly against corruption and had been trying to root it out from the State.
Regarding illegal manufacturing of Indian Made Foreign Liquor (IMFL) at Thoubal district, the Chief Minister informed that team of Khongjom Police Station, on receiving an input about the illegal manufacturing of IMFL, conducted a search operation at the residence of Thokchom Bobo Singh of Khongjom Maning Leikai, under the supervision of Senior SP Thoubal Jogeshchandra Haobijam.
During the search, certain items used for manufacturing of IMFL including chemicals were seized. Three persons were arrested including Thokchom Bobo Singh, Thokchom (O) Bino Devi and Thokchom (O) Achoubi Devi, he informed.
Condemning such activities of causing serious health hazards to the people, the Chief Minister stated that such heinous acts could be taken as an attempt to murder. He stressed the need for coordinated work of Judiciary and Executives to stop unlawful activities and save the State from its ill effects. He expressed the Government's stand to take up actions against those involved in such activities, irrespective of communities and religions.
Biren further informed that a team of Sagolmang Police Station had arrested 3 persons for their involvement in setting fire at the hill range of Kongba Maru. A case had also been registered against them under relevant sections for further investigation and necessary legal action.
Information and Public Relations Minister Dr. Sapam Ranjan, Education Minister Th. Basanta Kumar, Secretary (Revenue) Namoijam Kheda Varta and other senior Government officials were also present during the press briefing among others.