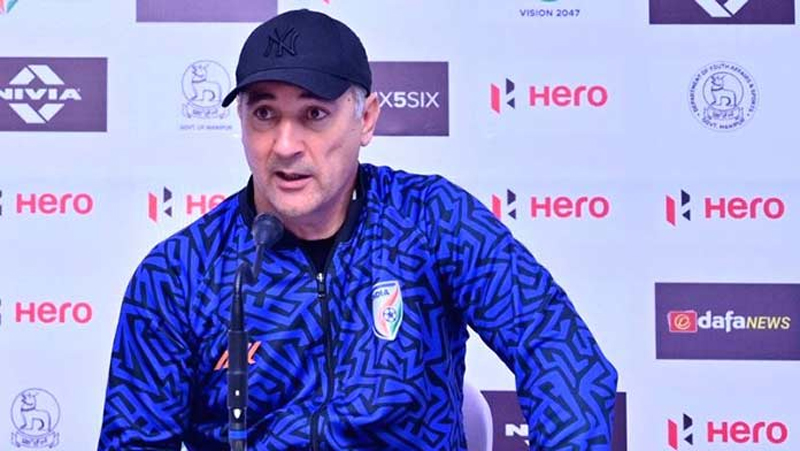 AGENCY
Imphal: India edged Myanmar 1-0 in the opening game of the Tri-nation international football tournament, but head coach Igor Stimac opined that the scoreline could have been wider given the hosts' complete dominance in the game.
Two decisions involving captain Sunil Chhetri – an apparent foul on him not given as a penalty in the first
half and a goal disallowed for offside — led Stimac to say "For me, the result is 3-0, not 1-0.
"I cannot say anything to my players as they did everything we agreedupon. Goalkeeper Amrinder was
excellent tonight, and Sunil was unfortunate not to score. He was hungryfor goals and could've had a hatrick," said the Croatian after the game on Wednesday night.
While many would not have expected Chhetri to play the entire 90 minutes in Imphal just four days after a gruelling ISL final, the skipper's hunger and determination to get back to national duty was what helped Stimac make the decision.
"Sunil was the first player to make it to the camp after the ISL final. He did not waste a minute but rather rushed to join the national team. That proves his hunger and commitment. He is one of the fittest players in the squad and can play continuously for three days," the coach said in a media release.
In the pre-match press conference, Stimac said one of the elements of these March friendlies will be to celebrate the players' achievements in the ISL and recognise their good performances.
In line with that, he handed out three national team debuts. It wasn't just a historic night for the capacity crowd at the Khuman Lampak Stadium, but also for Mehtab Singh, Naorem Mahesh Singh and Ritwik
Kumar Das, who earned their first India caps. Mehtab, who was named in the starting XI, had a mixed debut according to Stimac.
"He was great but sometimes too nervous. But he will get used to the pressure as we only had one training session before the match," he said. But the debutant who impressed the Croatian the most was Naorem Mahesh Singh, who was in fact a last-minute call-up due to Sivasakthi Narayanan's withdrawal due to injury.
"Mahesh was a big surprise. I saw what he's capable of in the ISL, but when players come from the ISL to
the national team, it's a different type of pressure. He was brilliant tonight and everything he did was perfect by the book," praised Stimac.