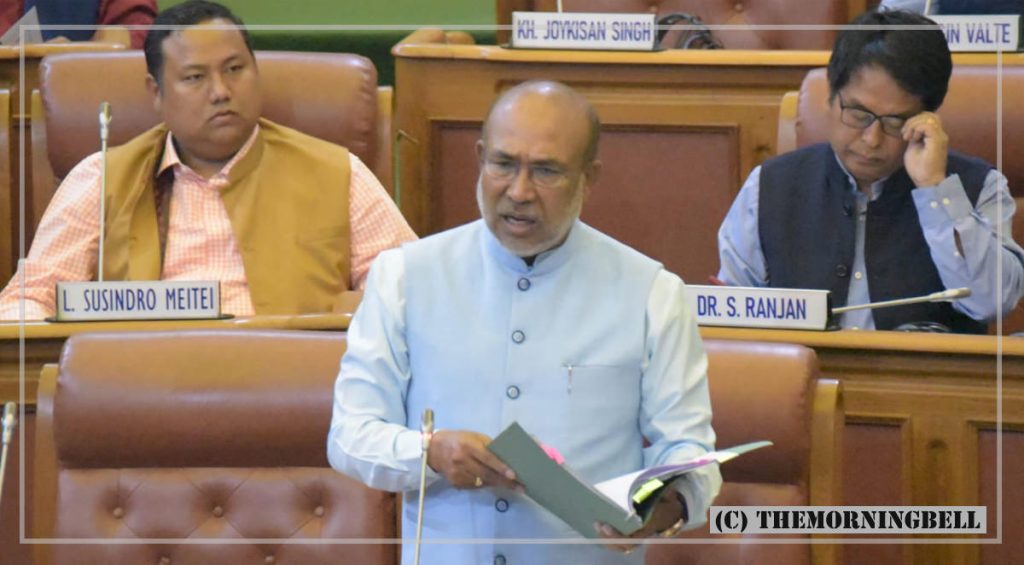 Imphal (DIPR): Chief Minister N. Biren Singh, who is also the Leader of the House presented the Demands for Grants, 2023-2024 for seven different departments, amounting to Rs. 16,86,03,06,000.00 during the ongoing Assembly session on Friday. The House passed the Grants after a subsequent discussion.
The Demands passed by the House include Rs.18,22,08,000 for Information and Publicity; Rs. 73,64,00,000 for Labour and Employment; Rs.811,57,23,000 for Department of Tribal Affairs and Hills; Rs.547,74,53,000 for Power; Rs.30,05,95,000 for Election; Rs.5,05,50,000 for Science and Technology and Rs.199,73,77,000 for Information Technology.
Responding to a policy cut motion raised by Opposition MLAs K. Ranjit Singh, Th. Lokeshwar Singh and Surjakumar Okram, Biren who also holds the portfolio of Power clarified that there are two companies applying for solar power plants for producing solar energy in the State.
He informed the House that 221546 families under BPL were given free power connections and that high mast light and LED street lights were installed in 74 spots in all the districts.
The Chief Minister said that the Asian Development Bank expert committee's decision is awaited regarding the taking over of Loktak Downstream Project and that a survey has been conducted by experts from different countries.
On a matter of public interest, MLA Ram Muivah raised a discussion on the deplorable condition of NH-202 from Yaingangpokpi to Finch Corner (Imphal-Ukhrul road).
Works Minister Govindas Konthoujam clarified that an expert committee consisting of representatives from the Ministry of Rural Development, National Highways Infrastructures Development Company Limited (NHIDCL) and Manipur Government will be constituted to look into the matter.
He said that steps will be taken up for the speedy completion of repairing of the deplorable condition of NH-202 from Yaingangpokpi to Finch Corner, (Imphal-Ukhrul road).