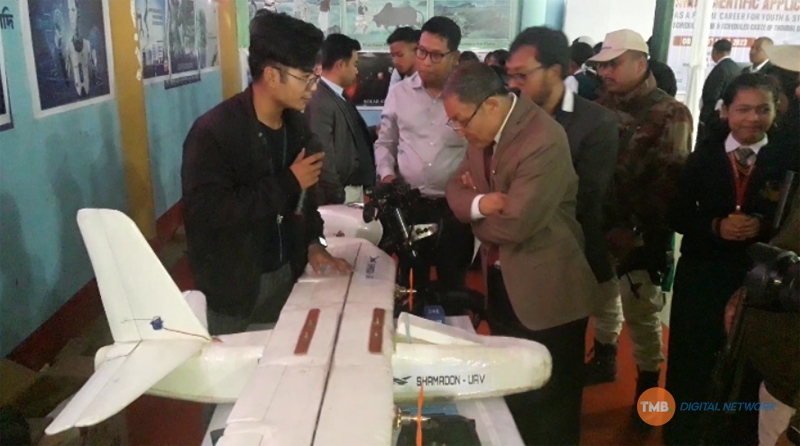 Thoubal: A two days science exhibition organised by Center for Rural Empowerment and Development Organisation, Shikhong Bazar, Thoubal  on the theme "Awareness on Science Education and Scientific Applications as a future career for youths and students of ST and SC population of Thoubal District " began on Wednesday  at MMRC and Unity Park Convention Hall, located at Khangabok, Thoubal District, Manipur.
 The two days event is being sponsored by NCSTC Division, Department of Science and Technology, Ministry of Science and Technology, Government of India and  it's a one-of-a-kind exhibition showcasing the latest breakthroughs in science and technology. 
The inaugural event of the exhibition witnessed the presence of Prof. N. Rajmuhon Singh,Vice Chancellor, D.M. University, Imphal, Manipur as chief guest, while Kh. Menjor Mangang, founder and Chairman
K.M Blooming Higher Secondary School, Khangabok as president and  Prof. Kh. Tomba Singh, registrar, National Institute of Technology, Manipur who is also the former Dean and Head, Manipur University and Raheijuddin Sheikh, principal, Lilong Haoreibi College, Manipur as guest of honor respectively.
Giving his key note adress , M.Lokendro, assistant librarian, Manipur University stated that  the exhibition would surely be a platform for the students to learn, share knowledge and inspire one another. He also reminded that this was the second such science exhibition happened under the initiative of CREDO,the first one was held last year at Kakching and Chandel districts, Manipur.
" Our goal is to inspire the next generation of young scientists and engineers, and to showcase the incredible work being done in these fields", he said. The talkers in the inaugural event stressed on the roles played by science in our day to day life.
"Science has the power to transform and improve our world,from advancing healthcare to revolutionizing technology. They are instrumental in improving our lives" , the talkers maintained.
It may be mentioned here that the two days science exhibition showcased the latest advancements in fields such as robotics, artificial intelligence, biotechnology, and more.
On the first day, power point presentations were presented by experts on scientific applications followed by a quiz program and interactive session.
On the concluding day, PPT of experts,model demonstrations and science talk, students painting competition, science documentary show  and others will be presented.Attendees  will have the opportunity to meet with innovators, scientists and engineers from the National Institute of Technology, Manipur and professionals from different Colleges of  Manipur. Several innovators, scientists,researchers and exhibitors also took part at the inaugural event.