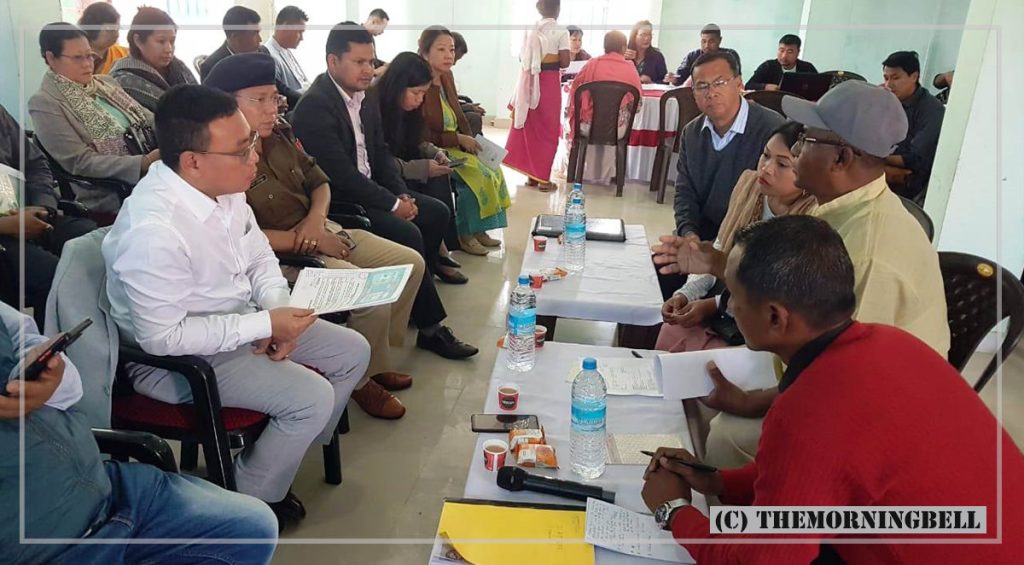 Imphal (DIO): District Administration, Bishnupur on Friday conducted the monthly Meeyamgi Numit at the Panchayat Resource Centre, Mini Secretariat.
Deputy Commissioner Bishnupur Lourembam Bikram with SP Bishnupur N. Herojit Meitei led the District Officials in hearing various grievances of the people.
Weaver card, yarn card and CMHT card were handed to beneficiaries. Around 100 people besides officials attended today's Meeyamgi Numit.
Stalls of various departments and banks were set up to provide different services and benefits to the people as part of the Meeyamgi Numit. Services related to the CMHT, Old Age Pension, Widow Pension, Ration Card, among others were also provided.
The District Hill Leaders' Day & Meeyam gi Numit for Kamjong district was also organised at Kasom Khullen sub-divisional headquarters. Organised by the District Administration, Kamjong, the programme was held at Sadhavna Mandap, Kasom Khullen town.
Deputy Commissioner Kamjong Rangnamei Rang Peter, SP Kamjong Manjit, top level police officers, civil officials and District Level Officers of various government departments in the district attended the event, and heard the various grievances of the public as done in proceeding months.
In the event that witnessed hundreds of public in attendance, the district level offices (DLOs) opened their mobile stalls to cater to the various demands and grievances of the public. Among the most active stalls were the CMO, ICDS, DSWO, MSPDCL, DAO, District Handloom & Textiles, District Forest Office, CAF & PD, SDO office etc.
Rangnamei also distributed welfare items and cards of various welfare schemes belonging to different departments to many beneficiaries. CMO Kamjong also catered to the numerous health-related grievances that were turned up on the spot today.
On the sidelines of the function, the DC, SP and SDO Kasom Khullen also held an interaction session with headmen and village-chiefs of the Kasom Khullen sub-division regarding the construction of the Shangshak-Tengnoupal road.
The District Administration Kangpokpi also organised the 7th District Hill Leaders' Day and Meeyamgi Numit at T. Waichong Government High School, Tujang Waichong Sub-Division, Kangpokpi district.
Villagers were given benefits under different departments, including income certificate, CMHT cards, sprayers among others. On the other hand, VDVK products including pickles and other edible products were made available during the event.
District Administration, Kakching also organised the seventh "Meeyamgi Numit" (People's Day) in respect of Kakching district at the Deputy Commissioner's Office Complex, Kakching. Altogether 27 line departments opened their stalls for delivering public services and addressing public grievances during the day. A total of 244 grievances/applications were received and 146 people attended the programme.
DC Kakching Somorjit Salam distributed several items to the disabled persons who were selected as beneficiaries under Assistance to Disabled persons of Social Welfare department.
The distributed items include one Wheel Chairs standard, 3 smartphone, 3 Smart cane, 2 Tri-cycles, 3 Hearing aid, one CP Chair and 5 Crutch Elbow under the ADIP (Assistance to Disabled persons) scheme of the District Social Welfare Office, Kakching.
Services provided by DSO (CAF & PD) were distribution of 11 New Ration cards, addition of 20 new members in Ration Card and deletion of six members from Ration Card.
The District Transport Department issued a single Learner's Driving license while Medical, Health & Family Welfare issued one Food Safety Registration certificate.
MAHUD conducted 12 registration of Birth and 2 registration of Death. Textilles, Commerce & Industries issued 10 Weaver ID and received 28 applications form for Pehchan card.
District Level Officers of the district opened facilitation centres for beneficiary oriented schemes.
The District Administration, Pherzawl also successfully organised District Hill Leaders' Day & Meeyamgi Numit for the month of February for the first time at Sibapurikhal Government High School in Vangai Range Sub-Division, Pherzawl district. SP Pherzawl A. Ghaneshyam Sharma, IPS; I Dinesh Kumar Singh, SDO (Tipaimukh/Vangai) and DLOs led by the DC attended the event.
Altogether, 1614 services/benefits of different government schemes/benefits were delivered to the beneficiaries. The benefits delivered included 30 Integrated Child Protection Scheme from CWC under DCPU, Medical Department (24 Death Certificates, 100 Birth Certificates, 20 CMHT/PMJAY and 63 Medical Check-up), Vety & AH (43 Vaccination and 43 Treatment), 307 Ration Cards by CAF&PD, 16 Uniforms and 16 Textbooks from the Education Department, 20 Aadhaar issued by DIT, Social Welfare (10 MOAPS, 18 new registration for OAPS, 65 registration for UDID, one registration for Widow Pension), 11 new registration for PMMVY under ICDS and different certificates by the Revenue Department (300 Domicile, 300 Tribe, 90 Income and 137 Birth Affidavit). Enrollment of CMHT/PMJAY/Aadhaar will continue till tomorrow.
As part of the event, 14 stalls of different departments were opened along with an awareness programme on POCSO Acts (Child Trafficking & Child Right) by CWC and display of VDVK products and awareness by Forest Departments.
On the other hand, on the sidelines of District Hill Leaders' Day & Meeyamgi Numit Program, the District Health Society, National Health Mission also organised a one-day District Level Orientation Programme of Coordination Committee and Enforcement of COTPA for various stakeholders under National Tobacco Control Programme (NTCP).
The District Hill Leaders & Meeyamgi Numit for the month of February, 2023 was also organised at the multipurpose hall, mini Secretariat, DC complex, Chandel.
As part of the programme, ADC Chandel Md. Firoj Khan gave away various items to beneficiaries under various schemes of different departments. Under the Zonal Education Office, text books, activity books and uniforms were distributed to students of Lamphou Pasna Aided Primary School. Other materials like Mathematics Kits, sports materials, like volleyball, badminton rackets etc and MDM plates were also given to the school.
As usual, different departments like Health, Social Welfare, Agriculture, ICDS, and all the other departments of the district rendered services to many individuals of the district. Free medical checkups were also conducted by the Health Department at the venue.
In today's programme and applications of various issues related to developmental works and others were received for further necessary actions.
Today's program was attended by SDOs, DLOs and other officials of the district.
The sixth "District Hill Leaders Day and Meeyamgi Numit" in respect of Tengnoupal district was organised at the office complex of the Deputy Commissioner, Tengnoupal.
In today's event, Deputy Commissioner Tengnoupal Ranjan Yumnam along with the district SDOs and officers of the different departments inspected the stalls and interacted with the public.
The Forest Department distributed 712 nos. of tree saplings for planting, and the Health Department screened 11 nos. of people for Blood Sugar and 7 nos. for Hypertension. The Social Welfare distributed 4 nos. of Chief Minister Widow Pension Scheme, 8 nos. of Manipur Old Age Pension Scheme and 2 nos. of Pension Scheme of PWDs under CMHT and 2 nos. of Caregiver Allowance for persons with disabilities. The Agriculture Department issued 2 nos. of SMAN forms.
The Horticulture & Soil Conservation gave awareness regarding schemes under H & SC. The Education Department distributed 24 sets of school uniform and textbook each, 3 nos. of first aid Kits and 06 nos. of Mathematical Box and 15 nos. of sports items. The Transport Department issued 2 nos. of License and received 2 nos. of license application.
The Fishery Department received 02 nos. of query for construction of Fish pond. The Revenue Department issued 3 nos. of Land Holding Certificate and 2 nos. of Dependent Certificate. ICDS Distributed 6 nos. of PMMVY forms and conducted Nutrition Mela and also gave Health Awareness to the public.
Deputy Commissioner, Sub Divisional Officers, and other District Level Officers and officials of all the line departments of the district interacted and assisted the people who turned up for availing beneficiary schemes.