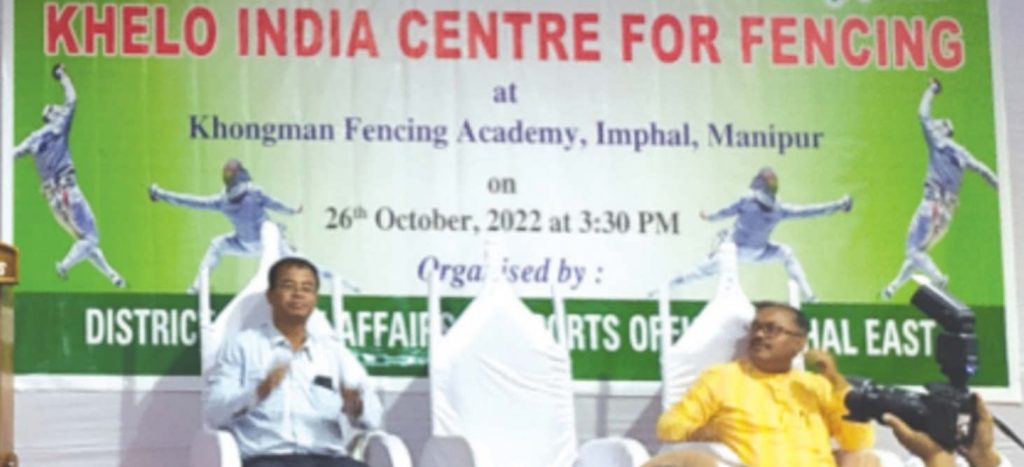 TMB Report
Imphal: Khelo India Center for Fencing was inaugurated by District Youth Affairs and Sports, Imphal East at Khongman Fencing Academy on October 26.
Chief Guest of the function Minister Th Bishwajit stated that "Khelo India Scheme" is turned up from the previous scheme "Rajiv Gandhi Khel Abhiyan" to play freely and to absorbed sports and to fit all the Indian citizens to be healthy and strong as well as to shine the country in over the world. Today we get a good opportunity to open a Khelo India Center here due to our fencers' effort and many achievements in the National and International arena.
He expressed that Sports is a part of education because we get a lot of knowledge from it, if we are healthy, we can do everything.
The Minister observed that inculcating sports culture among the people, mainly the younger generations, would help in curbing drug menace in the society. If we spread out the habit to play sports, it will make it easier to make a good healthy society.
Sometimes our players sensed disgrace due to lack of infrastructures, main power and financial problems. So we need to encourage and support this time and have a good relationship between players and coaches to find the destination, the Minister added.
Govindash Konthoujam, Minister, YAS, govt. of Manipur president of the function said that Ministry of Youth Affairs and Sports, government of India has been sanctioned an amount of One Crore Twelve Lakh for 16 districts of Manipur to opening of districts level Khelo India Center for different sports disciplines namely Archery, Athletics, Boxing, Badminton, Cycling, Fencing, Hockey, Judo, Shooting, Swimming, Table Tennis, Weightlifting, Wrestling, Football and Traditional Sports as well as to upgrade the field.
Govindash said that this center will attract the youths towards the field of games and sports and would help them away from drugs. It will perform better as "Power House of Sports" in the National and International pitch.
He assured that to produce more fencers from this centre, two more pitches will be provided as well as SWC Football ground will attach artificial turf soon.
He mentioned that Youth Affairs and Sports, government of Manipur earlier handed over Rs. 5 Lakh each to District Youth Affairs and Sports officers of 16 Districts Manipur.
The sports ministry had opened Khelo India State Centre of Excellence (KISCE) at Khuman Lampak Sports Complex in 2020 in three disciplines namely Archery, Weightlifting and Hockey to focus on identifying and providing world-class training to athletes in the state, the Minister stated.