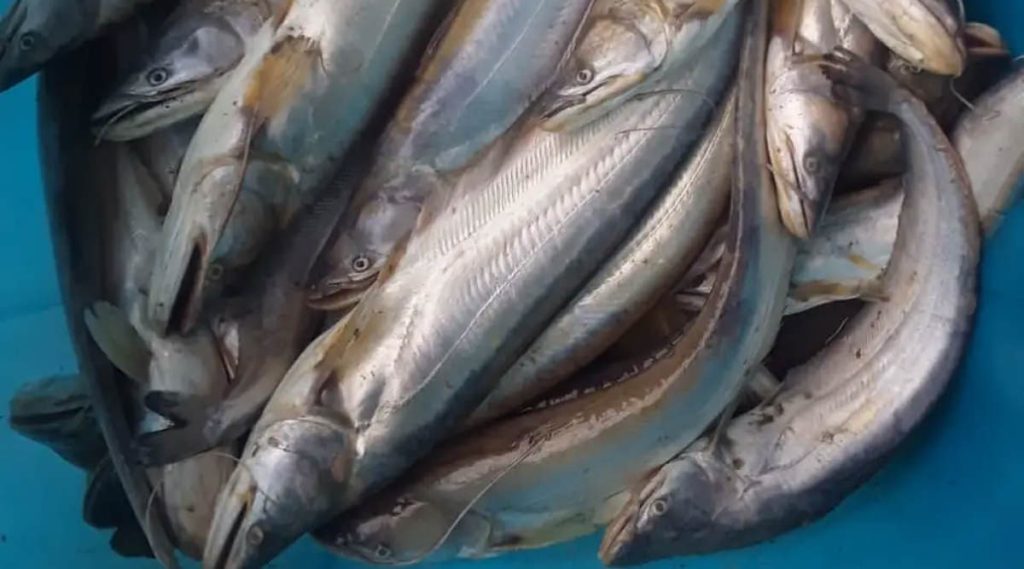 TMB Report
Imphal: Fishery Minister Heikham Dingo on Monday announced that the Fishery Department is all set to produce above 1 lakh kg of fish in the Fish Fair-cum-Fish Crop Competition 2022 to be held on October 26 at Hapta Kangjeibung, Imphal East as part of the Ningol Chakkouba festival of the Meetei community in the State.
Briefing reporters at a press conference held at his office chamber at New Secretariat, Fishery Minister H Dingo also conveyed that 3000 Kg of locally reared "Sareng" (Wallago attu), which has local significance will be on sale at the fish fair for the first time.
The Minister said that as many as 200 fish farmers from 16 districts will take part in the fish fair cum fish crop competition that will have 115 fish stalls. The department has prepared to produce 3000 kg of local Sareng at the fish fair. Besides, various fish varieties such as Catla, Rhou, Common carp, Pengba, Khabak, Ngaton, Ukabi, Ngahei, Tunghanbi etc will be on sale on the day, he informed.
The Minister further said that the State has been facing shortage of fish for years as the fish produced by the local farmers cannot meet the requirement of the state. However, the department has been able to make up the shortage to some extent after the fish farmers used new technologies. Despite this, the State is still facing the shortage of fish. The State will be able to produce sufficient fish by 2025, the Minister conveyed.
Fishery Director H Balkrishna said that the price of Sareng weighing between 750 gm and 1 kg will be fixed at Rs. 1200. He said that The price of Sareng is a bit high as the farmers are compelled to incur huge expenditure in rearing Sareng fish.
Unlike other fish varieties, nurturing Sareng fish is expensive as it does not consume normal feedings. Sareng survives by consuming fingerlings. Huge expenses incurred while importing Sareng fingerlings from foreign countries like Myanmar. The department is making effort to avail Shareng at a cheaper price by increasing production of fingerlings as feeding of Sareng, he added.
The Director said that the department has been holding such fish fair cum competition since 1979.
The stalls opened at the fish fair will be allotted to the fish farmers at gratis. Transportation of fish farmers will be borne by the government on the day. Rs. 1 lakh will be rewarded to the farmer who produces highest fish crop while Rs. 70,000 to the second and Rs. 50000 to the third highest fish producers. There will be consolation prizes carrying Rs. 20000 each. Rs. 20,000 will be given to a farmer who produces highest indigenous fish crop. Best district Fishery officers will also be given incentive, he added.
He said that the prices of the fish have been fixed at an affordable price as both the rich and the poor celebrate Ningol Chakkouba.