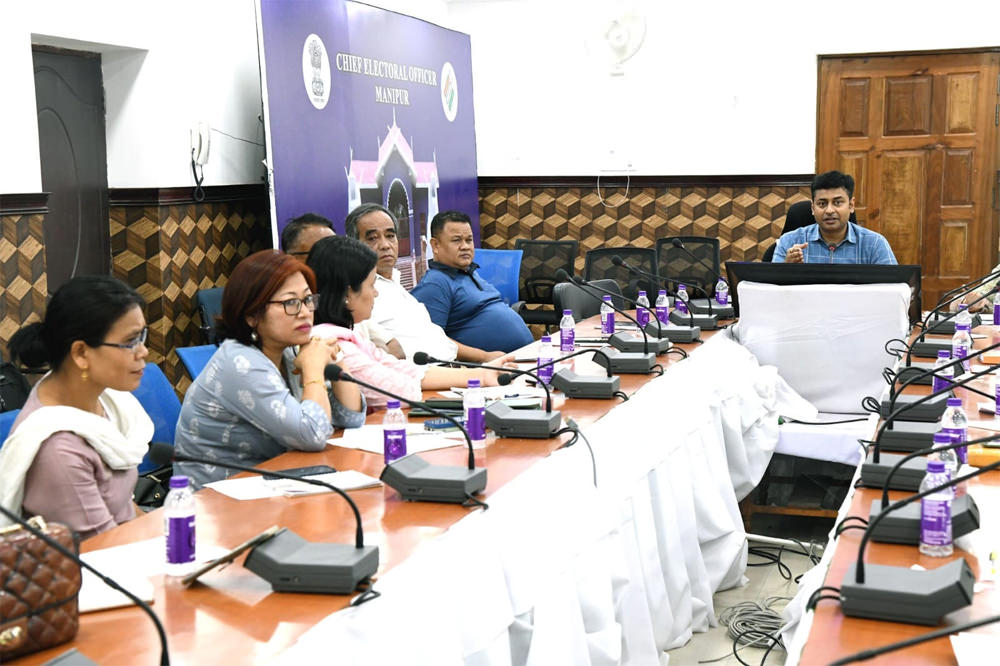 Imphal (DIPR): A meeting of the Committee on Livelihood/Skill Development/Small Business/Industry (Facilitating Market Access) was held at the Conference Hall of the Chief Electoral Officer (CEO), Lamphelpat on Saturday.
The meeting was chaired by CEO, Manipur Pradeep Kumar Jha (IAS), who is also holding the charge of Commissioner Cum Secretary, (Election/Tourism/Textiles, Commerce & Industries/Health & FW), Government of Manipur.
During the meeting, various prospects of developing medium and small-scale industries and providing self-employment to the desirous and eligible individuals in the State was minutely discussed.
Possible ways of providing immediate training of skill development and starting a livelihood employment to the inmates in the relief camps in the State was also discussed. Suggestions were also proposed by the committee members for providing financial support and suitable employment to generate income for the inmates.
The committee also discussed to prepare a roadmap containing organisation, possible financial support, manufacturing and marketing of products. One Family, One Livelihood under the Chief Minister's Entrepreneurship Support Scheme (CMESS) was also emphasised during the discussion.
It was also discussed that for achieving the targeted objective, a series of meeting will also be organised with the concerned stakeholders and the Government at the earliest possible.
Among the committee members who attended the deliberation today were Prof. Ch Priyoranjan Singh, Prof. Ng Iboyaima Singh, N Bandana Devi (IAS), Nivedita Lairenlakpam (IAS), Yumnam Robita (IAS), Arambam Valentina (IAS), Industrialist Sanabam Khagemba and others.