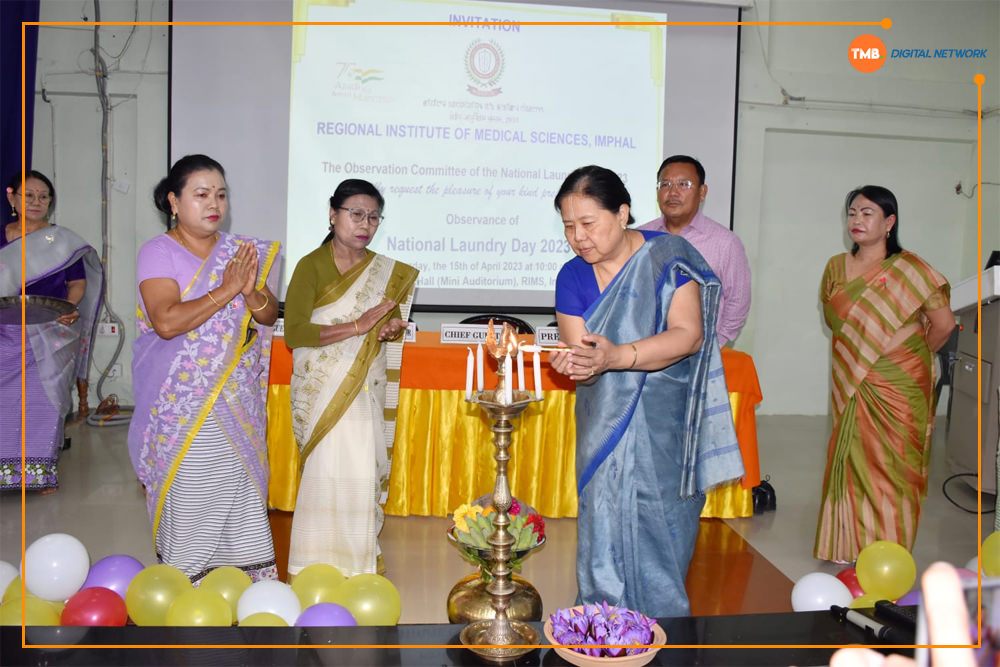 TMB Report
Imphal: Regional Institute of Medical Sciences (RIMS), Imphal observed National Laundry Day 2023 at Banting Hall (Mini Auditorium) of the institute on Saturday.
Addressing the gathering, RIMS Director Prof. H. Priyoshakhi Devi stressed on the importance of laundry and its existence, recalling that back to 1987, dhobi used to supply the laundry works at RIMS Hospital.
She said that in those days, RIMS Hospital was even unable to supply bed sheets adequately to patients but nowadays; the laundry treatment system has far more developed as compared to earlier days.
She said that to bring more advanced modern technology to the laundry treatment system at RIMS, Imphal, we need to plan a meeting to share opinions regarding all the requirements and works that can be submitted to the higher authority at the Centre and also put up in executive council meetings.
Even though the laundry section is small, every section of all departments is equally important as they contributed their service for the development of the institute. The RIMS Director urged the officials and staff to cooperate and help each other in making RIMS a good institute.
Taking part in the programme, RIMS Hospital Medical Superintendent Prof. N. Sanjib Singh informed that a new laundry building has been constructed and a new laundry machine has also been arrived and within one/two months, a new laundry will be set up at the institute soon.
He also noted the importance of nursing officials/nursing officer's duties and responsibility in the hospital, saying that they are the one who can bring changes in management of the hospital for better productivity.
He said that efforts will be made to provide adequate bed sheets to patients' parties with new bed sheets for every single day. He advised patients' parties not to use their home bed sheets for the patients.
The programme was attended by W.Ibeyaima Devi, Chief Nursing Superintendent i/c, RIMS Hospital, N.Ibemhal Devi, Deputy Nursing Superintendent, i/c, RIMS Hospital, and Th. Binodini Devi, Mechanical Laundry & Senior Nursing Officer i/c, RIMS Hospital, Imphal along with the Head of Departments, faculty members, Nursing Official and staff of the institute.