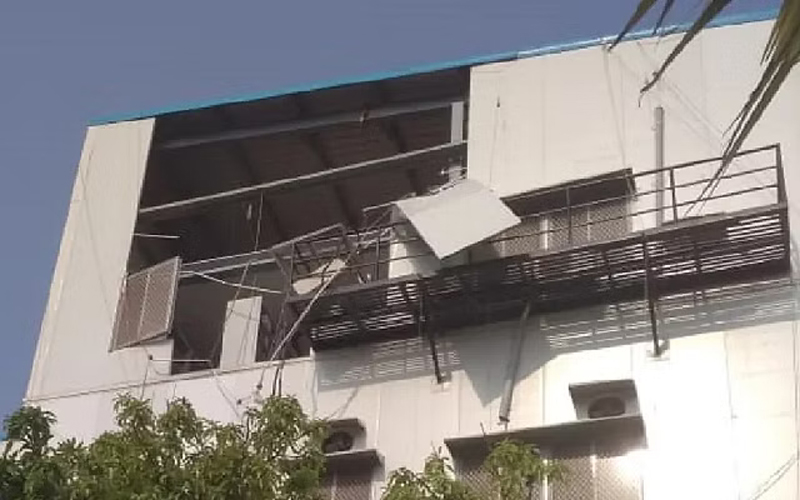 TMB Correspondent
Churachandpur: Barely three months after its inauguration, parts of Churachandpur Medical College were ravaged by the tropical storm that hit the entire Churachandpur district last night thus arising questions on the quality of the college buildings.
According to a source, a tropical storm that lashed the district last night at around 12.10 am blown off parts of the panel walls of Churachandpur Medical College buildings. Walls of the library facing the east of the Academic Block (main building) on the third floor were blown away. Some parts of the wall in these sections in the backyard facing the west have also been blown off.
Walls of the emergency medicine block were blown away causing damage to the ceilings and other structures and in these sections located on the second floor, walls were totally broken and its structures were bending due to strong forces of the wind. The floors of the building are planned to be used as an eye ward though it has not yet been occupied, said the source.
Director of the medical college S. Iboyaima visited the damaged site on Tuesday morning. Speaking to media persons, the Director said that he will immediately carry out repair works of the damaged portions by today itself. He said that the building is a pre fabricated one with a panel and weightless walls and it is very strong .
He, however, said that there are portions where there are some gaps and a hole through which air could come in. Site engineer Venkat of the Keystone Infra Construction Company Ltd, which constructed the building and was present at the site said that they have not compromised with the quality and in future they will see that no such things happen. Mention may be made that the college building was inaugurated by Union Home Minister Amit Shah on January 6.