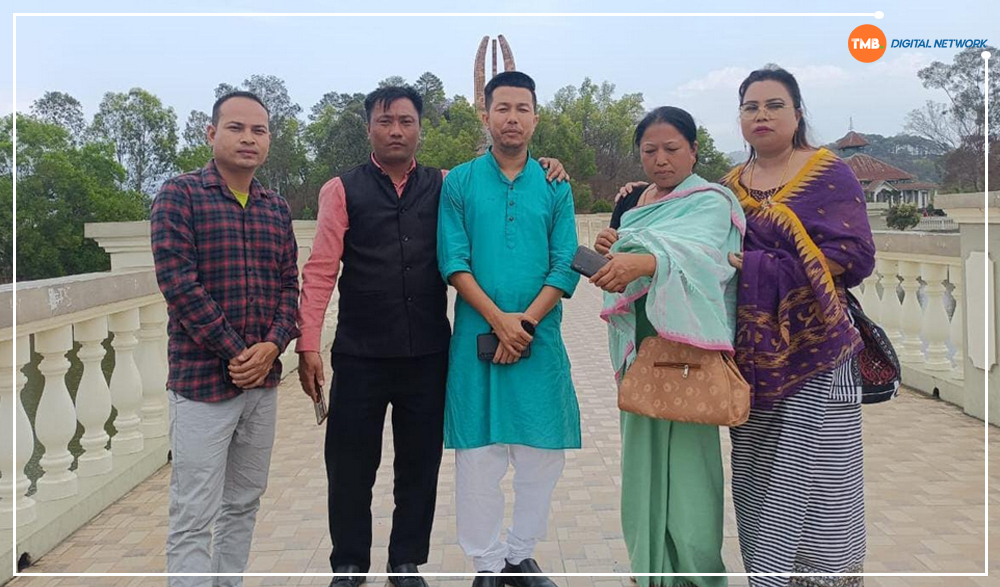 Thoubal:The young social and cultural activist from Tripura Ningombam Pranoy who is visiting Manipur to explore the historical sites of the state paid rich tributes and homage to the martyrs of 1891 Anglo-Manipur War at Khongjom Kheba hillock on Monday.
Ningombam Pranoy who is also the advisor of Patriotic Writers Forum Tripura touched the feet of Major Paona Brajabashi statue and saluted with honour by offering floral tributes.Besides,he also offered tarpan at Khongjom river.Prano was arriving on March 31 at Imphal for eight days Manipur tour.
Pranoy stated that he was happy on getting paying floral tributes to our war heroes who fought bravely againt those mighty British forces to save our independence and added that it was his long cherished dream which turns into reality that he longs for many years.
Recalling the thang-ta,the martial arts from Manipur,used by our war heroes at that last war of Independence,Pranoy requested the authorites and organisations concerned of thang-ta to organise workshops on Thang-ta at Meitei residing villages of Tripura so that the popularity of thang-ta get increase.
Gurumayum Biplab sharma,president,PAWF Tripura,Chongtham Jibanlata,Naorem Romila and Dr.Inaoba Moirangthem also took part at the visit led by Rakesh Naorem,secretary,Patriotic Writers Forum Manipur.
Rakesh Naorem recalled the incident of 1891 Anglo-Manipur War and pleaded the coaches and organisations of Thang-ta to extend support in organising workshops at Tripura.
Later,both G.Biplab sharma and N.Pranoy visited Tentha and paid floral tribute to the statue of Neta Irawat located at Tentha khunjao.On sunday,they visited the sacred place of Ibudhou Thangjing at Moirang,loktak lake,Sangai Ethnic park,loktak folklore museum and others.