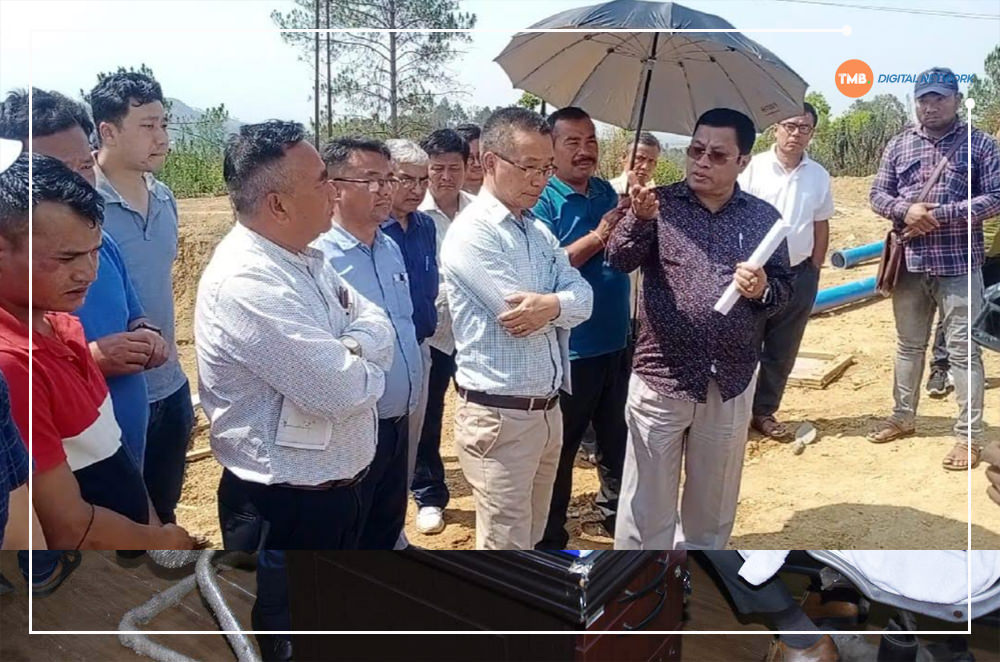 TMB Correspondent
Thoubal: The water reservoir tank of the newly constructed Augmentation of urban water supply scheme at Kakching Khunou have developed leakages in several parts of the Reservoir.
The scheme was taken up at an estimated cost of Rs.9.12 cr under New Development Bank.
Leakage of the newly constructed Water supply scheme was detected when Sugnu MLA K Ranjit inspected the scheme on Monday.
The legislator also instructed the PHED Chief Engineer and the Key Stone Infrastructure company engaged in the construction work to review their work and maintain proper quality control.
MLA K Ranjit said that out of three water reservoir of the Urban Water Supply scheme, two Reservoir tanks have developed several leakages which justifies poor quality in the construction work. It is astonishing that a popular construction company like Key stone fails to maintain quality in their work.
Despite the govermment entrusting the construction work of water supply schemes in Urban areas with the Companies expecting that they will maintain proper quality, many projects handled by such companies have seen sub standard quality. If a competitive atmosphere is created by entrusting the local contractors, construction works will see good quality, he observed.
Ranjit further said he has no any personal grudge with the Key stone company and has been cooperating with the company in every work taken up in his AC. He questioned as to how the government entrusted several projects with the company.
He said his statement should not be construed as political blame. Local contractors who even staged protest demanding to give works need to be encouraged by giving them works to create a competitive atmosphere.
PHED Chief Engineer Shangreiphao Vashum said, to err is human and such incident takes place sometimes. Let's see the leakages of the reservoir can be repaired through cement courting. Many Cement courting technologies are available nowadays. If the cement courting fails to serve the purpose, another RCC layer can be added in the reservoir.
He said the department is making effort to complete the project and hand over the same to the people within a month.
One Kakching khunou resident said government need to construct the scheme by maintaining proper quality. Ongoing Construction of the scheme is not satisfactory. The water leaked from the reservoir has flooded the indo-Burma Sugnu road. Besides the two reservoir, the filter reservoir is also suspected to have leakages.