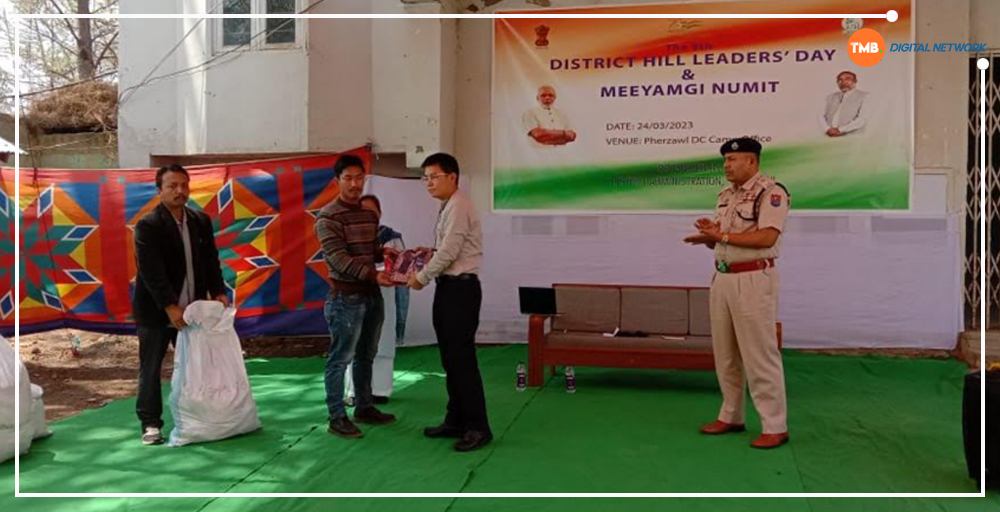 Imphal (DIPR): The District Hill Leaders' Day and Meeyamgi Numit for Kamjong district was observed on Friday at Thawai (T) village of Phungyar sub-division. Organised by the District Administration, Kamjong, the programme was held at the community hall of the village.
Deputy Commissioner Kamjong Rangnamei Rang Peter; Superintendent of Police P Manjit; ADM Ningreingam Leisan; CEO David Kashung Nao and Secretary of Thawai village Kharaomi attended the programme. Top civil and police level officials of the district, and other district level officers of the various government departments were also present at the event.
In the event that witnessed hundreds of people in attendance, a total of 32 District Level Offices (DLOs) opened their mobile stalls to cater to the various demands and grievances of the public. Among the most active stalls were the CMO, ICDS, DSWO, District Horticulture & Soil Conservation, SDO office, DIO etc.
Giving his speech, DC Rangnamei said that the program has been intentionally planned to hold in various villages and sub-divisions of the district as Kamjong is a very vast district where every sub-division stays remote from one another. He appealed to the people of Thawai and Phungyar block, in general, to extract maximum benefits of this program when it arrives 'in their doorsteps'.
He also appreciated the effort of the present government for initiating such a program where everyone can get avail of government services and welfare schemes very conveniently. To receive beneficiaries and services smoothly in a district like Kamjong where the district HQ is located very remotely is not an easy task, and that's where an event like Meeyamgi Numit and Hill Leaders' Day becomes a rescue to the public, he added.
Giving awareness to the public about the various Centre and State sponsored welfare programs and how those benefits can be received from such an event like Meeyamgi Numit, CMO Dr Lucy Duidang, ZEO L Nabakumar and District Horticulture Officer Kh Manorama gave speeches at the event.
The stall of District Horticulture & SC distributed a total of 11 water pump sets including nine sprinkler pumps and two drip-irrigation pumps. The distributions were presented by the Deputy Commissioner to the beneficiaries.
CMO Kamjong also catered to the numerous health-related grievances that were turned up on the spot today.
The District Administration Kangpokpi also organised the 8th Hill Leaders' Day and Meeyamgi Numit at Bungte Chiru Community Hall, Bungte Chiru Sub Division in Kangpokpi district.
Deputy Commissioner Kangpokpi Kengoo Zuringla, IAS, inspected various stalls opened by the departments at the community hall. Welcoming the general public, she asked them to address their grievances and other issues to the department officials without any hesitance so that they get maximum help and assistance.
T. Opendro Singh, Sub Divisional Officer (SDO) ensured smooth conduct of the event and also guided the general public.
On the other hand, District Level Officers (DLOs) and the staffs of various departments addressed to the queries/grievances of the general public during the event. As per the guidance of the Deputy Commissioner, maximum services and benefits were provided by the department officials to the general public.
During the event services were provided related to health by medical team led by CMO and cards related to various schemes were distributed to the beneficiaries. Benefits of schemes related to horticulture, agriculture, veterinary & animal husbandry and social welfare among others were also provided today.
District Administration Pherzawl also organised the District Hill Leaders' Day and Meeyamgi Numit for the month of March at the Office Complex of the Pherzawl DC Camp Office.
SP Pherzawl A. Ghaneshyam Sharma, IPS; ADC Sachi, MCS, Programme Coordinator (District Hill Leaders' Day & Meeyamgi Numit); Addl. SP Lunzamung Tungnung; I.Dinesh Kumar Singh, SDO (Tipaimukh/Vangai) and other DLOs led by DC Haulianlal Guite, IAS attended the event.
Altogether, 500 plus services/benefits of different government schemes/benefits were delivered to beneficiaries. The benefits delivered today included registration of two Death and 23 Birth Certificates along with 131 free medical check-ups under the Medical Department. 57 dogs were vaccinated by the Vety & AH Department while 12 ration cards under CAF&PD were provided.
From the Education Department, 78 uniforms and 70 textbooks along with 10 white boards were distributed. Six Gasoline Pum Sets were distributed by the Horti & Soil Conservation Department while six Bio-Fertilizers were provided by the Agriculture Department.
The Social Welfare Department distributed two MOAPs including submission of one form for new registration while three beneficiaries applied for PMMVY under ICDS. Different certificates including seven Domicile, eight Tribe, two Death Affidavit and 23 Birth Affidavit were provided by the Revenue Department.
The OSC distributed 70 leaflets on Roles of OSC besides organising an awareness programme on Violence Against Women & Mental Health. A total of 44 persons registered for Forest Fire Alert System 3.0 under the Forest Department.
One Disability Certificate and several benefits/services were handed over to the beneficiaries directly by the Deputy Commissioner and the SP.
As part of the event, 17 stalls of different departments were opened.
District Administration Kakching also organised the seventh "Meeyamgi Numit" from 10 am to 2 pm at the Deputy Commissioner's Office Complex, Kakching.Altogether 28 line departments opened their stalls for delivering public services and addressing public grievances during the day. Altogether 136 grievances/applications were received and 43 people attended.
District Social Welfare office, Kakching issued and received as much as 66 application forms pertaining to MOAP, Disabilities, CMST, Care giver and Widow.
The Medical Department provided five registrations under CMHT and also issued one CMHT card. Services provided by DSO (CAF & PD) were registration of seven New Ration cards, addition of five new members in Ration Card and deletion of one member from Ration Card.
Six registrations of Birth and one registration of Death were recorded by MAHUD while the Revenue Department issued seven income certificates, three residential certificates and nine birth and death orders.
Concerned District Level Officers on the spot opened facilitation centres for beneficiary oriented schemes.