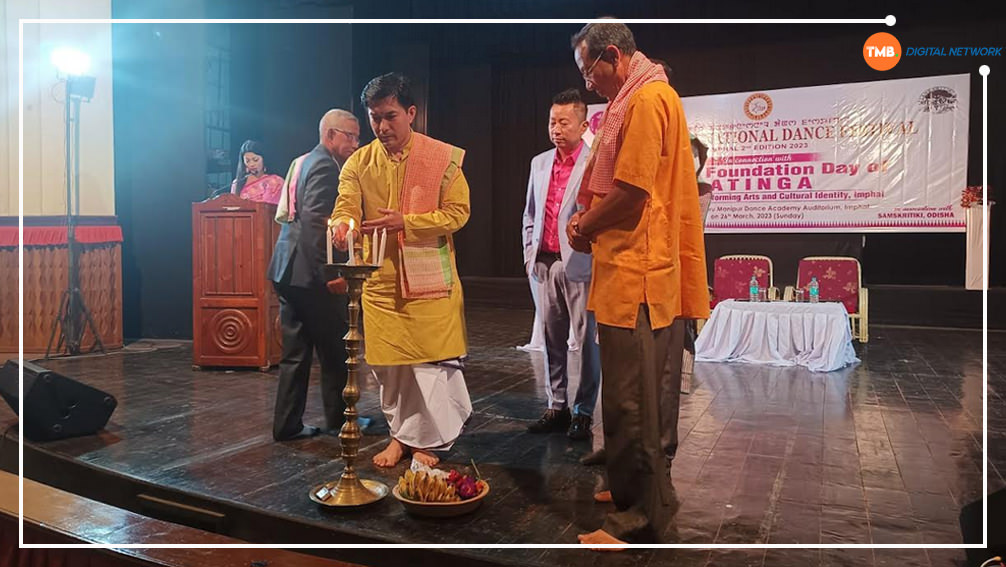 TMB Report
Imphal: Atinga, an institute of performing arts and cultural identity organised the 2nd edition of the India International Dance Festival 2023 as a part of the observation 8th Foundation Day at JN Dance Academy auditorium, Imphal on Sunday in association with Samskritiki, Odisha.
Giving his speech as Chief Guest, Director in-charge of JN Dance Academy P Bilash Singh highlighted the problems and difficulties faced by artists to showcase their talents in a suitable platform.
He stated that artists take a long time to master their art form but lack of opportunity and platform hinder them from success. Although art and culture plays a crucial role in upholding the identity of the State, only few artists are able to achieve success and sustain themselves as professional artists in the state.
He said that the festival will help in providing much needed exposure and platform to budding artists of Manipur to display their talents in a proper stage and stressed that the government and the people should support giving such a valuable platform and opportunity.
Bilash noted that organising such festivals will also aid in preserving and promoting the state's diverse cultural identity and art forms. He said that the first edition of the festival was held in 2020 but was halted due to the pandemic.
He said that the diversity of participants in the festival displayed the unity shared by artists across the nation and their dedication to art. He said that JN Dance Academy will include more tribal culture and dance subjects of Manipur from the upcoming academic session.