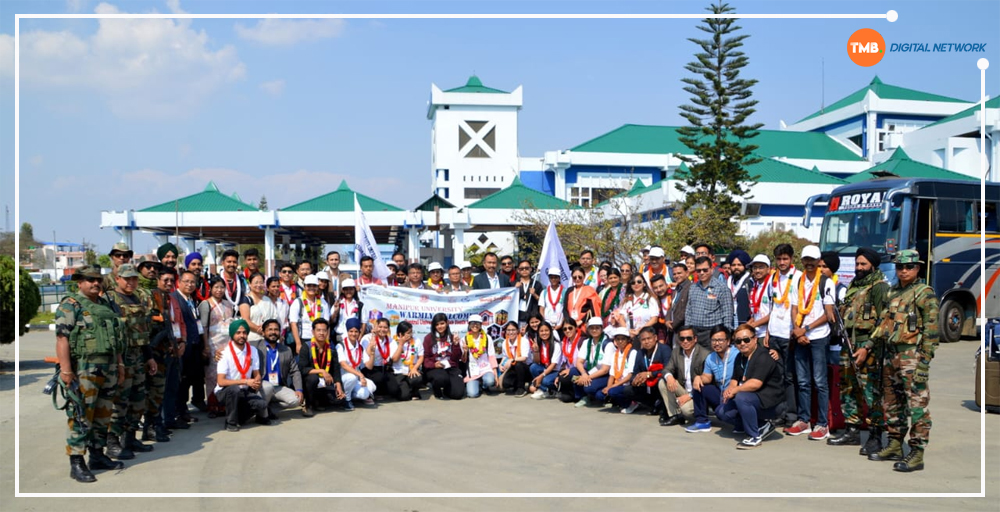 Imphal (PIB): A group of students from Punjab arrived in Imphal on Friday on a week-long exposure tour to Manipur under Ek Bharat Shreshtha Bharat (EBSB), a pilot initiative by the Government of India.
The Punjab EBSB team, comprising 46 and four faculty members from Central University Punjab, arrived in Imphal on Friday by flight. An EBSB team of Manipur University received the team at Bir Tikendrajit International Airport, Imphal where they landed in the afternoon.
The team will stay till March 29 and during their visits, the participants will have a multi-dimensional exposure to five broad areas –tourism, traditions, development, technology, and people-to-people connect.
The team was given a warm welcome when they reached Manipur University campus where they will stay at the guest house of the university for the next six days.
On day one of the exposure tour, the team paid a visit to Gurdwara Sri Guru Singh Sabha in Imphal's Thangal Bazar. It was followed by a visit to Kangla Nongpok Thong Park.
Apart from paying visits to various historically significant places and tourist attraction sites in and around the capital city and other areas of the state, the team will also pay a visit to Moreh at Indo-Myanmar border during their camping in the State.
The Government of India, had conceptualized an initiative of 'Yuva Sangam' under Ek Bharat Shreshtha Bharat (EBSB) to strengthen people-to-people connect and build empathy between youth of the North-Eastern States and other States of the country.
This program is being organised by the Union Ministry of Education in collaboration with various other ministries and departments such as culture, tourism, railways, information & broadcasting, youth affairs & sports, home affairs, department for Development of North-East Region (DoNER) and IRCTC.
Around 1000 youths of the country are expected to participate in the Yuva Sangam with full funding from the government of India.
The Punjab EBSB team arrived here to reciprocate the recent visit of Manipur University to their State (Punjab).
The student exchange programme is to celebrate the unity in diversity of the nation and to maintain and strengthen the fabric of traditionally existing emotional bonds between the people of the country and spirit of oneness focussing on tourism, tradition, development, technology and people to connect people.
The six-day programmes include visiting the cultural, historical and tourist sites, interaction with eminent personalities and buddy programmes where the students will visit the local houses to understand their way of living and food habits.