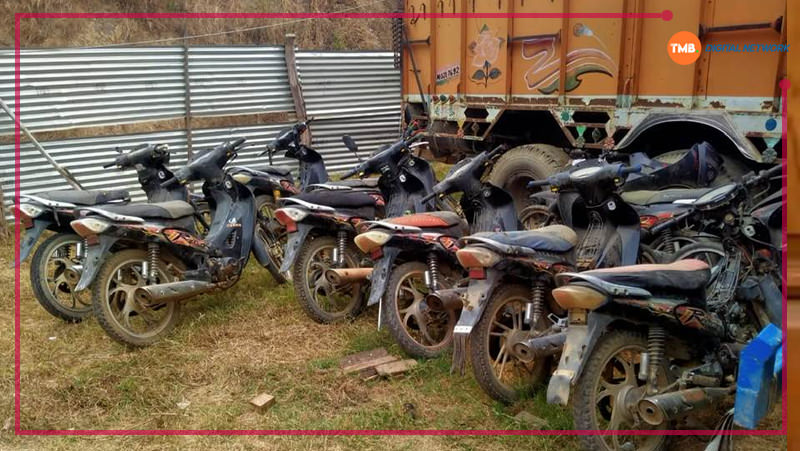 TMB Report
Imphal: A day after the seizure of four Kenbo bikes along with over 30 Kg poppy seeds, Manipur Police has seized 28 Kenbo bikes without proper documents allegedly used by the drug smugglers and poppy growers.
Chief Minister N Biren on his social media page informed that Churchanpur Police has apprehended 26 illegal Kenbo Bikes mainly used by drug smugglers and poppy planters and the same handed over to custom. The seized Kenbo bikes are at Langthabal lep Chingning godown. All the bikes brought from Myanmar have no valid documents.
On the other hand, two more Kenbo bikes were seized by Kamjong District Police on Saturday. One bike was seized at Kamjong town while the other one was seized at Kasom Khullen area. Meanwhile, Chief Minister N Biren chaired a crucial meeting to review the preparations for the verification drive to be taken up in five districts – Chandel, Churachandpur, Tengnoupal, Kamjong, and Pherzawl for identification of illegal immigrants on Friday. The meeting was attended by the concerned district Administration and Superintendant of Police.
The Chief Minister said that it is the State Government's bounden duty to protect the indigenous population, and we will take up all necessary means to carry out our responsibilities.
The Chief Minister while talking to reporters after the crucial meeting said that his government is seriously monitoring the issue of illegal migrants settling in the state.
The Chief Minister's statement comes in the backdrop of escalating protest by different pressure groups and students bodies demanding for implementation of NRC in the state and protect the indigenous population. The Chief Minister said it was good to see that the indigenous people of the state have started knowing the gravity of seriousness of influx.