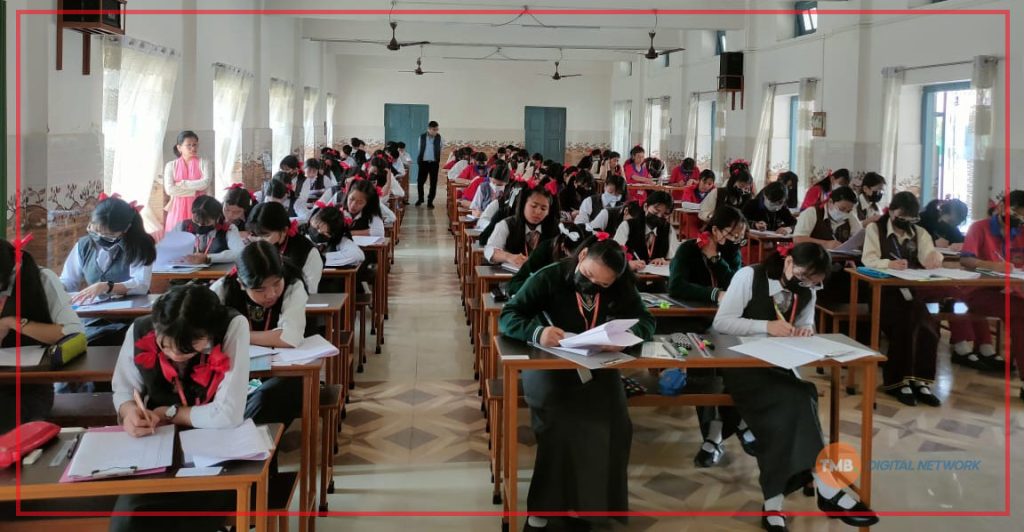 TMB Report
Imphal: At least three candidates were expelled for impersonation on the first day of the High School Leaving Certification examination 2023 conducted by the Board of Secondary Education Manipur (BoSEM) which commenced on Thursday.
Two candidates (Roll no 15877 & 15860) were expelled from MG Evergreen High School, Pallel Centre and one candidate (Roll no.15582) was expelled from Ideal High school, Pallel Centre for impersonation, Controller of Examination L Mangi Singh informed. Notably, the HSLC examination is being held in 158 different examination centres in both the hill and valley with altogether 38,127 candidates appearing for the exam which will conclude on April 3.
Out of the total candidates, 8,130 candidates are from government schools, 1, 520 from aided schools and 28, 477 from private schools. A total of 12 candidates belonging to the blind and physically handicapped category are also taking part in the exam. On the first day, a group of media persons visited the examination centre at TG Higher Secondary School and found smooth conduct of the exam in a strict manner. Talking to reporters, TG Higher Secondary School Principal Dr. Vinita Devi Elangbam said that the exam centre of the school is classified into two sub-centres i.e. TG-A and TG-B with TG-A allotted for 194 candidates and TG-B sub-centre allotted for 207 candidates. When queried about the sort of challenges, she replied that there is no any sort of challenges as all the candidates came well prepared.
To conduct the exam smoothly, the guidelines prescribed by the board were strictly followed by the authorities of the centre. When the exam began, some students faced certain confusion in marking the OMR sheet or Roll number but the invigilators properly explained about the marking of the OMR sheet before the exam started.
Vinita further said that even after explaining about marking of OMR sheet, some candidates were found committing mistakes and as such, their answer scripts were replaced with a new answer script with the instruction not to recur such mistakes again.
She wished all the candidates would appear in the remaining subjects calmly without any nervousness.
The different inspection squads including volunteers of some students' organisations were deployed in different examination centres of the State. Mention may be made that for smooth conduct of the HSLC exam, 2023, the concerned District Magistrates issued prohibitory orders under sub-section 2 of Section 144 CrPC, 1973.