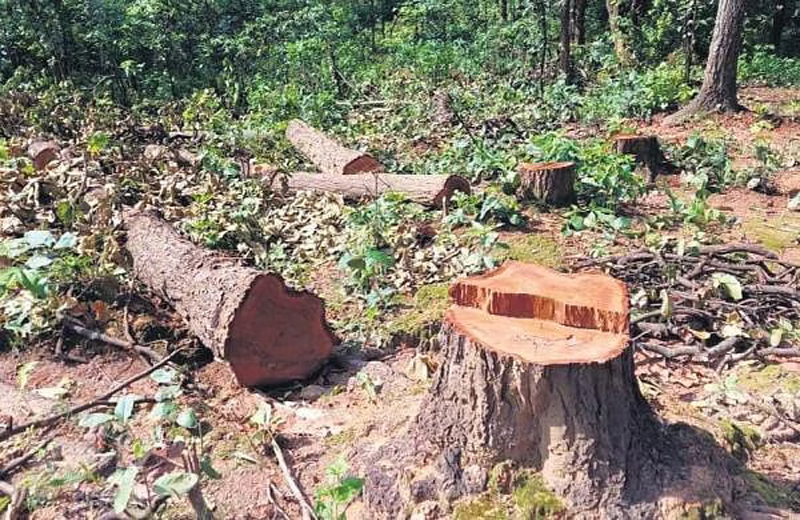 Ranjan Tandon
A storyline focused on droughts and failed crops, it was a grim reminder of where we are headed.
A closer look at our evolving relationship with the environment is imperative in the era of climatic changes. There is more to it than just warmer temperatures. It's only to a point that the atmosphere and oceans can absorb or combat weather extremes and natural disasters. The urgency to reverse the damage warrants the adoption of ingenious methods that encourage consequential initiatives at the grassroots level. The performing arts and cinema shape our thoughts and steer our ideologies. Songs entertain and connect people, often with a rooted message conveyed in a popular voice, influencing our perspective of the ecological paradigm. Emotions rise, and reactions follow.
The famous Khoya Khoya Chand, scripted by Shailendra and rendered by Mohammed Rafi in Kala Bazar, is reminiscent of the pristine skies and freshness of the 60s. An infectious positivity in the song, Yeh Kaun Chitrakar Hai, penned by Bharat Vyas for Mukesh in the 1967 film Boond Jo Ban Gayee Moti, emanates obeisance to the grandeur of nature.
The 70s, however, were a curtain-raiser for "sombre surroundings". Marvin Gaye's song Mercy Mercy Me (The Ecology), a 1971 Billboard chartbuster, expressed environmental deterioration with its lyrics: "Where did all the blue skies go? Poison is the wind…" Singers Joni Mitchell, Paul McCartney, and Neil Young, among others, continued to inspire and implore as "ambassadors for environmental awareness".
Music and lyrics paved the way for a mix of feature films and documentaries, accentuating the existential crisis. A Hollywood release, The Day After Tomorrow, narrated a modern, dystopian ice-age tale, evoking apprehensions of nature's wrath. The futuristic thriller, Waterworld, fictionalised a submerged Earth traversed by Kevin Costner, who plays the Mariner. Though seeming unrealistic and exaggerated, it's a possibility based on a 2015 study by the journal Science. The Oscar winner, An Inconvenient Truth, was inspired by the presentations compiled over the years by Al Gore. It convincingly conceptualised global warming and the greenhouse effect. Before The Flood, an award-winning documentary by Leonardo DiCaprio, introducing the concept of a carbon tax and the development of renewables with corporate participation, reached 60 million viewers.
Years of Living Dangerously, a National Geographic Series, examined the effects of climate change in diverse world habitats. With the active participation of celebrity figures and global leaders, the focus was renewables, fossil fuels and carbon emissions.
Bollywood took cognisance of Kadvi Hawa in 2017. A storyline focused on droughts and failed crops, it was a grim reminder of where we are headed. The theme poem, Mausam beghar hone laga hai by Gulzar, with a backdrop of destruction, sums up the sentiment poignantly. Kedarnath (2018), a tapestry of fact and fiction around the 2013 floods in Uttarakhand, conveys a veiled message of climate catastrophe that affected more than 4000 villages of Rudraprayag district, the blame for which largely lay with human indifference and irreverence.
Plots of global devastation make humans succumb to fear. Such is the architecture of our mind. To effect change, we need to witness less of an apocalypse and more of "restorative cinema", infusing hope for a positive future. Deviating from catastrophism, a transition to propitious filmmaking is underway. Themes suggesting solutions and inducing optimism are gaining wider acceptability.
French Cinema's initiative on "Le rechauffement climatique" (global warming), Demain (Tomorrow), was acknowledged as creative and constructive. More than a film, it was the "beginning of a movement". Besides political venues, the film was shown at every school in Brussels! 2040, an Australian documentary released in 2019, according to New York Times, "is an accessible, informative and optimistic look at solutions to the climate crisis". The director offers his four-year-old daughter a "utopian future" in the hope that the climatic anomalies are mitigated by the conscientious implementation of remedial measures.
Florida-based Cinema Verde (green cinema), amongst a few other such global initiatives, is an artistic approach to storytelling. Well-curated films on diverse environmental issues, both fiction and non-fiction, offer sustainable solutions on this streaming platform and also via global satellite screening.
A recent Indian endeavour, Faces of Climate Resilience, is a documentary series of 16 stories that capture the spirit of climate resilience. Inspiring while focusing on myriad real-life experiences and solutions, they were streamed on YouTube as a run-up to the United Nations Climate Change Conference (COP27) in Egypt last year.
Dedicated participation of popular mainstream actors and celebrities in this realm will attract a larger audience and impart a deeper impact akin to brand endorsing. Allusive lyrics, topical imagery and a compulsive script make a sure cocktail to foster mass motivation.
Government facilitation is complementary to the success of such ventures. Emulating the UN and numerous private funds, higher grants and subsidies should form part of national budgets for such media productions, encouraging greater professional involvement. Awareness of adaptation measures through a visual medium is the best self-insurance for the vulnerable and uneducated populace. Films of this genre need to be patronised in cities and rural belts at schools and other community levels. The idea is to internalise consciousness and commitment to the environment at a young age. Ultimately, it's a collective responsibility that transcends barriers of nationality and language. Only then can we create a world worthy of a "legacy".
"Dharma exists for the welfare of all beings. Hence, that by which the welfare of all living beings is sustained, that for sure is dharma." Mahabharata (Shanti Parva 109.10).
(The writer is a Senior markets specialist and author)
(source from the The New Indian Express)