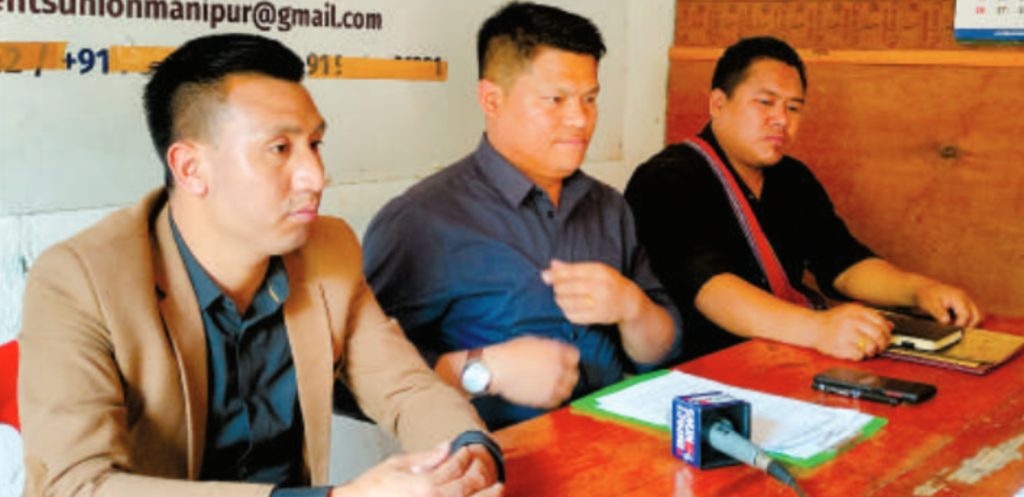 Imphal: All Tribal Students' Union Manipur (ATSUM) has demanded nullification of the result for appointment of Lower Division Clerk (LDC) and the resignation of RIMS Director for gross violation of the reservation quantum for SC, ST and OBC as laid down by the Central Government. ATSUM General Secretary Andria while speaking to media persons at its office at Adimjati Complex on Saturday contended that the recently announced result of the appointment of Lower Division Clerk (LDC) in RIMS has violated the reservation quota of SC, ST and OBC by the RIMS authority.
He said that the Department of Personnel and Training (DoPT), Government of India while having convinced that the direct recruitment to Group C and Group D posts normally attracts candidates from locality or a region had fixed the reservation quantum of reserved categories on the basis of their
population in the respective State/UTS. He said that the quantum of SC, ST and OBC for the case of Manipur State was fixed at 3 percent for SC, 34 percent for ST and 13 percent for OBC. He said that the matter was conveyed to the then RIMS Director for strict adherence as per the Ministry of Health and Family Welfare (North East Section) and in compliance with the Ministry letter and the then Deputy Director (Admn), RIMS with the approval of the concerned authority issued an order of reservation quantum to be followed in RIMS as 3 percent for SC, 34 percent for ST, 13 percent for OBC and 50 percent for UR on May 21, 2022.
Andria pointed out that the matter was discussed in the joint meeting of the Parliamentary Committee, National Commission for Scheduled Tribes and RIMS authority and accordingly necessary rectification in the reservation quantum was issued by RIMS. However, despite the clear instruction of the concerned Ministry and RIMS' compliance order for following the reservation quota of reserved categories laid down by DoPT, it has been violated by the RIMS authority in the recently declared result for the appointment of Lower Division Clerk (LDC) in RIMS, he alleged.
He said that such acts of the RIMS Director and administrative subordinates amount to challenging the authority of the Indian Constitution and deprivation of tribal communities of their legitimate rights. He said that the RIMS Director and his administrative subordinates must own moral responsibility and resign from her post. Demanding that the result of the LDC be declared null and void, he said that ATSUM will approach the concerned Ministry and National Commission for Scheduled Tribes for deliverance of justice to the tribals and will also opt to explore any possible means of agitation until the result is nullified.
He also drew the attention of the Chief Minister and Health Minister to take necessary actions in this regard at the earliest.