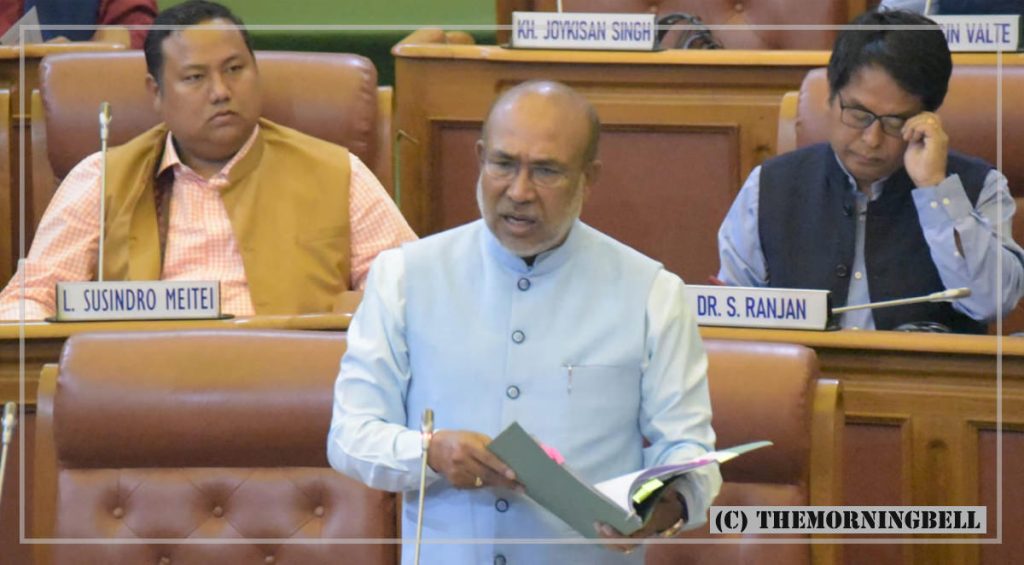 Imphal (DIPR): On the last day of the 3rd session of the 12th Manipur Legislative Assembly on Friday, Leader of the House N. Biren Singh, said that an expert committee has been constituted to look into liquor legalisation. He also said that the expert committee will submit a report by the end of this month. He was replying to a question raised by MLA K. Ranjit Singh.
Responding to another question raised by the MLA, Chief Minister N. Biren informed the House that there are 2,28,520 hectares of land under paddy cultivation in the State. He disclosed that a total of 3,017 cases have been registered for violation of the Paddy Land and Wetland Act, 2014 from 2017 to January 2023.
Replying to a question raised by MLA Paolienlal Haokip, Chief Minister N. Biren said that 18,500.6 acres of poppy plantations had been destroyed since the inception of "War on Drugs" till date. The Chief Minister further said that the government will extend all possible assistance to poppy planters on humanitarian grounds even if there is no definite plan to provide livelihood means for them.
Replying to a question raised by MLA Th. Lokeshwar Singh, Fisheries Minister H. Dingo Singh said that fish pond scheme is available under the Pradhan Mantri Matsya Sampada Yojana (PMMSY) and fish farmers belonging to SC/ST/Women will receive 60 percent subsidy whereas the subsidy will be 40 percent for general category.
Replying to a question raised by MLA Surjakumar Okram, Rural Development & Panchayati Raj Y. Khemchand Singh informed that the expected amount receivable under MGNREGS for 100 days for the year 2020-21, 2021-22 and 2022-23 are Rs.1301.86 crore, Rs. 1398.07 crore and Rs. 1498.47 crore respectively.
Later, the Leader of the House laid three papers on the table of the House: (i) Medium Term Fiscal Policy Statement, Fiscal Policy Strategy Statement & Macro Economic Framework Statement and Disclosures (ii) Report of the Fourth Manipur State Finance Commission 2021-2026, Volume I & II and (iii) Explanatory Memorandum as to the Action Taken on the Recommendations made by the 4th Manipur State Finance Commission in its Report submitted on July 31, 2021.
The Leader of the House also moved the Manipur Appropriation (No. 2) Bill, 2023 (Bill No. 3 of 2023) for consideration and passing.
Leader of Opposition Okram Ibobi Singh and MLA K. Ranjit Singh also expressed their observations on the Appropriation Bill.