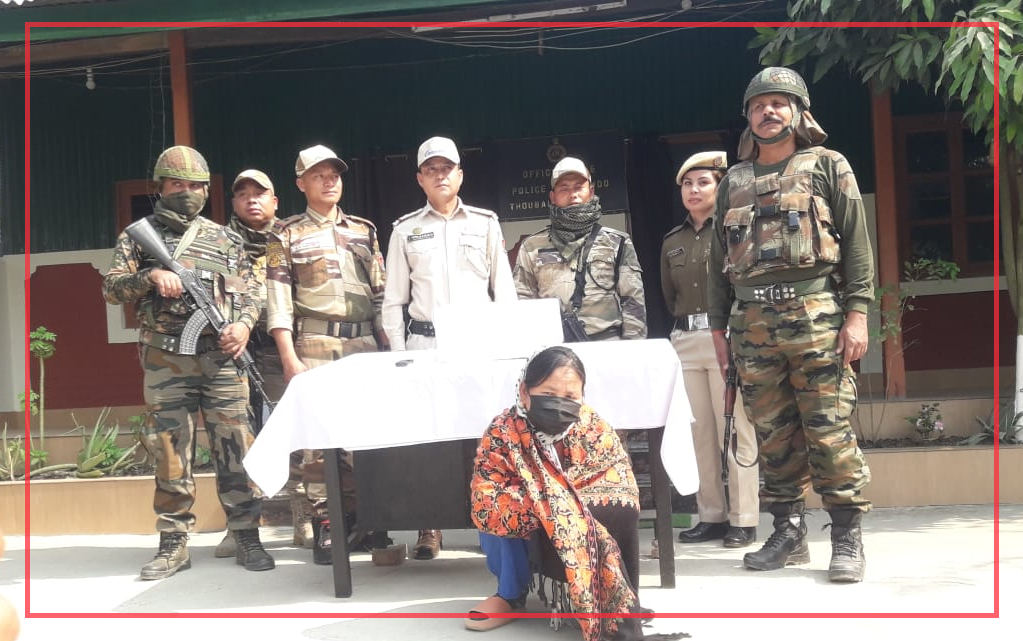 TMB Correspondent
Thoubal: Thoubal Police apprehended a woman along with Brown Sugar weighing around 515 gram from Waheng Leikai, Jirbam Parking, Imphal West on Friday.
As disclosed by a source, at about 6.30 AM, Thoubal Police received a tip off from 16 AR informing that some contraband items were being transported from Imphal towards Jiribam by a person. Based on the information, a joint team of Commando Unit Thoubal led by O. Wangkhomba, MPS, Additional SP(Ops), Thoubal assisted by Inspector K.Nitaranjan Singh, Office-in-Charge Commando Unit Thoubal and Havildar Kh.Suresh Singh including women police personnel under the supervision of Jogeshchandra Haobijam (IPS), Senior Superintendent of Police Thoubal conducted frisking and checking at Waheng Leikai, Jiribam Parking area.
During the course of the search operation, a lady was seen rushing to a nearby TATA Winger passenger vehicle seeing the police party. Due to her suspicious nature, she was detained by the police team for verification.
On preliminary verification, the unknown woman person identified herself as Heshi (33), wife of Dinglen Doungel of Tamenglong West, (Tousem) Tamenglong district. When the police team tried to check the passenger TATA Winger, Heshi was reluctant to cooperate with the police team saying that the school bag contained only eatables and clothes inside it, said the source.
On the suspicious manner seen, the police team opened her red and black colour school bag and detected 40 soap cases containing suspected Brown Sugar.
Afterwards, the suspected Brown Sugar was weighed by using a weighing machine and found a total of 551 gram including the weight of the transparent plastic.
Thereafter, the arrested woman along with the seized articles was handed over to Imphal Police Station for taking further necessary legal action. A case has been registered at Imphal Police Station, the source added.