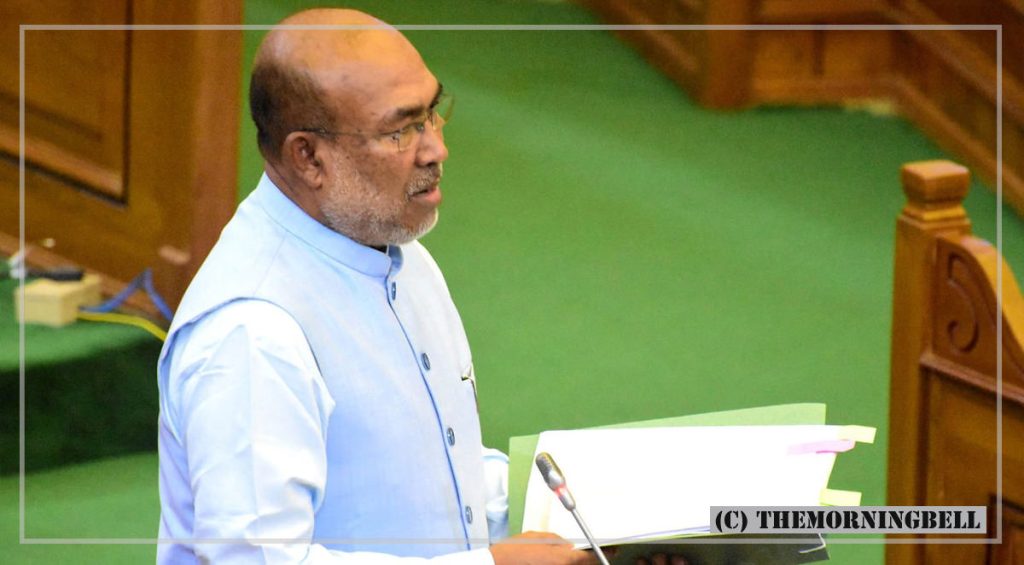 TMB Report
Imphal: Chief Minister N. Biren Singh has informed the House that the State Government has started biometric surveillance and house to house Aadhaar verification in five districts bordering with Myanmar to curb illegal infiltration from Myanmar.
Replying to a query raised by Opposition Congress MLA K.Ranjit Singh during the question hour of the 3rd Session of the 12th Manipur Legislative Assembly on Friday, Chief Minister Biren disclosed that from January 1, 2012 till date, police apprehended as many as 393 Myanmarese who illegally infiltrated into the State, out of which one was deported while 107 were detained in judicial custody, 105 in detention center and 180 were released on bail.
Conveying that the arrested 393 illegal Myanmarese infiltrators are only identified ones, he suspected that many more unidentified illegal infiltrators might be scattering in different areas of the State.
Highlighting the various measures taken up by the State Government to curb infiltration, the Chief Minister informed that the State Government has started biometric surveillance and house to house Aadhaar verification in five districts – Phungyar, Kamjong, Chandel, Tengnoupal and Chandel.
In this regard, a committee has been constituted. Security forces have been asked to strictly monitor the border, he added.
He said that the State Government cannot give refugee status to such illegal infiltrators as India is not a signatory to the UN Charter.
As such, the State is handling the situation by setting up detention centres. The Government is facing inconveniences in fully protecting the lengthy 390 km long Indo-Myanmar border, he said.
Biren who is also the Leader of the House divulged that with the approval of Ministry of Home Affairs, 34 police outposts will be set up in the border area to check infiltration from neighboring countries.
Construction of outpost is in full swing. Construction of some outpost have been completed, the Chief Minister said, exuding confidence that once the police outposts are functional, illegal infiltration can be curbed to a great extent.
Under Foreigners Act, the government can either arrest or deport such illegal immigrants. As the arrrested illegal Myanmarese infiltrators involve women and children, some of them are detained in detention centre, he added.
Regarding irrigation of paddy fields, Biren said that irrigation facilities are provided in 46,512 hectares of agricultural land by the Minor Irrigation and Water Resource Departments.
He continued that ground water extraction through tube wells, rain water harvesting and construction of check dams at the foothills are being taken up to provide continued irrigation facilities.
On a question raised by Opposition MLA Th. Lokeshwor Singh on land registration, Biren said that a Cabinet sub-committee verified the land buyers whether they are indigenous people of Manipur. Strict rules are in place to protect the state's land from outsiders, he added.