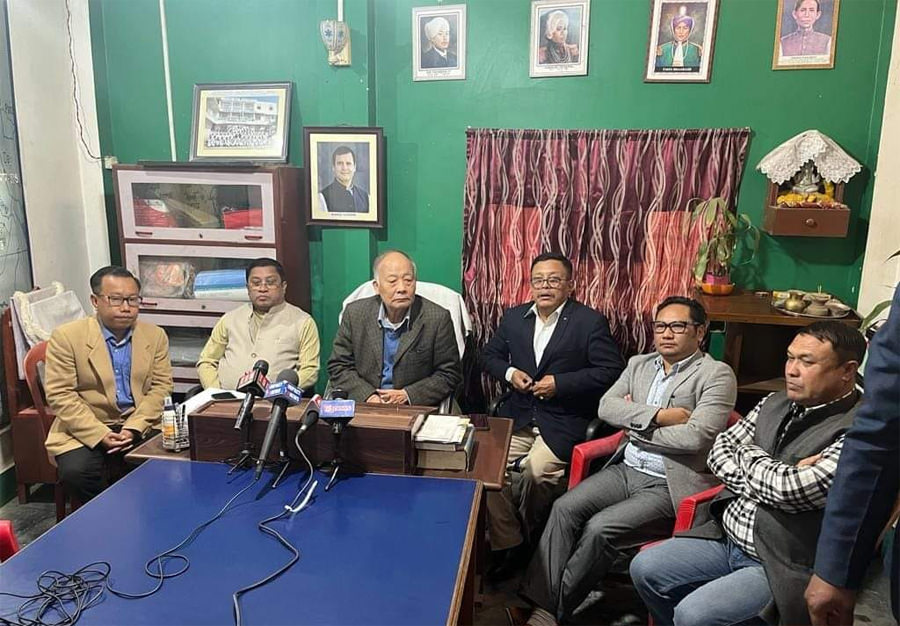 TMB Report
Imphal: Strongly decrying the series of attacks on Congress office and the gun attack carried out at the residence of Manipur Pradesh Congress Committee (MPCC) Vice-President Hareshwar Goshwami, former Chief Minister and CLP leader O Ibobi on Sunday said that the Congress is not the opposition party which will buckle under threat and intimidation.
The CLP leader, who came to take stock of the situation in the wake of gun attack at the residence of Hareshwar Goshwami at Wangkhei Meihoubam in Imphal East on the intervening night of February 10 and 11, said that the Congress is a party which firmly believes in democracy and constitution of the country.
He said that the attack at the MPCC office by lobbing petrol bombs, setting fire, piling of scraps and rotten eggs at the gate of Congress Bhawan is an uncivilised act which the party never expected.
Following the series of attacks on the Congress office, the residence of MPCC Vice-President and panelist Hareshwar Goshwami was attacked by unknown armed miscreants by firing several rounds of gun shots on the intervening night of February 10 and February 11, he regretted.
Goswami is a retired MCS officer who also shares factual and intellectual data on various key issues including border pillar dispute in panel discussions, Ibobi maintained.
Alleging that the saffron regime is unleashing a dictatorial rule in the State, the former Chief Minister questioned whether the current government is intentionally planning to strangulate democracy and constitution of
the country.
Except for a few countries, dictatorship has no place in the world in modern days. Dictatorship in a sensitive State like Manipur will not last long. People of the State are silently tolerating the dictatorial rule of the current BJP government as they do not like to challenge the government, he said.
The seasoned politician also said that there will be a certain limit where the public would not be able to tolerate such a system any more and the dictatorial government will face the wrath of the public.
He contended that the government has threatened the opposition to silence, but the Congress is not the opposition party which will buckle under threats. Such an act of intimidation will only strengthen the party's spirit, he said.
Maintaining that people are well aware of the Congress's role in attaining freedom from the British, Ibobi said that it won't be a wise act on the part of Saffron brigade if it thinks to diktat the people.
Questioning the trust of democracy, the CLP leader demanded the government to investigate the recent incidents to ascertain the facts and circumstances leading to the crimes.
Democracy can be saved only when the culprits involved in the crimes are booked. Intimidation against any individual whoever criticises the present government has questioned the destiny of democracy and the constitution in the State, he added.