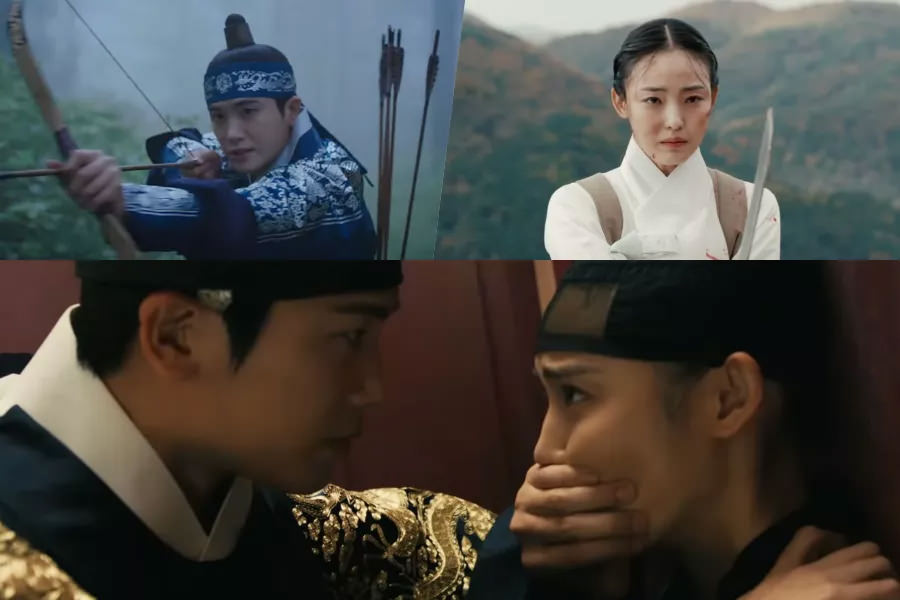 AGENCY
Unfortunately, crown prince Lee Hwan (played by Park Hyung-sik) in the new K-drama Our Blooming Youth is also cursed by a supernatural entity that shows him his dark future
in a letter, and the bad things detailed in it actually begin to happen.
He offers young noblewoman Min Jae-yi (Jeon So-nee) salvation in exchange for helping him break the curse, and Jae-yi has no choice but to accept as she is on the run after being accused of
murdering her entire family.
Hyung-sik, 31, made his debut with the boy band ZE:A in 2010 before branching into acting, playing roles in The Heir (2013) and the South Korean adaptation of Suits (2018).
More recently, he's known for his tight friendships with fellow celebs Park Seo-joon, BTS' V, Choi Woo-shik and Peakboy, and they are collectively known as the Wooga Squad.
Our Blooming Youth streams on Prime Video, but if you can't get enough of Lee Hwan, here are five more K-drama crown princes we love. Shin Seung-ho plays Go Won, crown prince of
the fictional country of Daeho in Alchemy of Souls (2022) and its sequel, and is beloved for wanting to become a generous king.
Go Won and Jang Wook (played by lead actor Lee Jaewook) share a complicated relationship where the prince finds the latter "irritating while he cares about him at the same
time" according to the production team. But don't just take our word for it, even Jae-Wook isn't immune to Seung-ho's charms and wants to win a Best Couple Award with him. The duo's bromance
is still going strong as Seung-ho, 27, visited Jae-wook after the latter's Feb 4 fanmeet in Bangkok.
"Bangkok trip with the Crown Prince," Jae-wook, 24, posted on Instagram on Tuesday (Feb7), sharing photos of the two hanging out at the hotel pool and taking a walk through the streets. "They're the main couple,
everyone!" a fan commented.
Set in the 18th century, The Red Sleeve (2021) adapts the real-life romance between King Jeong-ho (also known as YiSan) of the Joseon dynasty and his concubine-turned-royal consort
Seong Ui-bin (also known as Sung Deok-im). Lee Jun-ho plays crown prince Yi San who meets court lady Deok-im (Lee Se-young). When he becomes king, he asks her to become his
concubine but she initially refuses, valuing her freedom over the restricted life of a concubine.
Jun-ho, 33, is best-known for being a member of boy band 2PM but his acting chops in The Red Sleeve earned him great accolades, including being the first idol-actor to win Grand Prize
(Daesang) for Actor of the Year at the 2022 Asia Artist Awards.