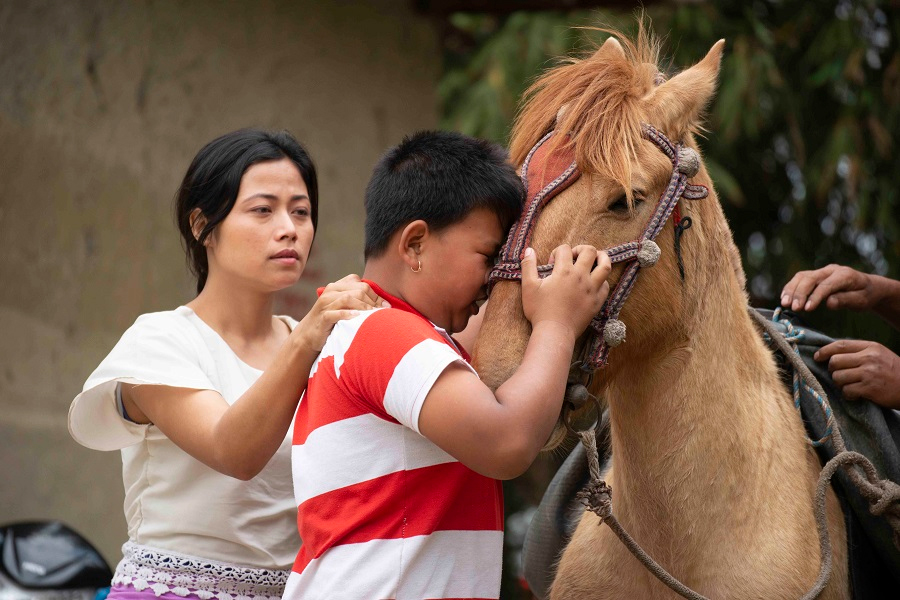 TMB Report
Imphal: Bobby Wahengbam and Maipaksana Haorongbam's Manipuri feature film- Eigi Kona(Stallone My Pony) and Maibam Amarjeet Singh's Manipuri non-feature film- Highways of Life have been selected for the Indian Panorama of the 51st International Film Festival of India 2020.
According to a press release by Meghachandra Kongbam, President, Film Society of Manipur,
Eigi Kona was among 20 feature films selected from a wide pool of 183 contemporary Indian films by a jury of 12 members headed by acclaimed filmmaker and screenwriter John Mathew Matthan.
The 90-minute Eigi Kona is an index of how polo players and ponies are leading pathetic lives in the birth place of polo, Meghachandra said of the film in the release. Thawai, a young boy loves to play Polo riding Stallone, a pony. Like him, Stallone is descendant of the horse his famous grandfather rode on playing polo. Again, like him, horses are in shabby positions for want of food and shelter. His father can't help but to sell Stallone out of poverty where Thawai becomes sick with the pangs of separation from the horse. Such a wonderful and skilful polo pony is now using to ferry liquor as it is commercially more useful. Unable to see Thawai's suffering, all including the coach, mentor, and family members try to bring back Stallone. The owner, who used to be a great player, finally hands over the pony to Thawai for the love of the game. The film is produced by Dr. K.Sushila Devi, former Director of Art & Culture, Government of Manipur, the president of the Film Society of Manipur said of the film.
Highways of Life was among 20 non-feature films selected from a diverse pool of 143 contemporary Indian non-feature films by a jury of seven members headed by acclaimed feature and documentary filmmaker Haobam Paban Kumar.
The 52-minute film- Highways of life is a detailed look at the high octane lives of Manipur's Highway truckers. Manipur is literally connected to the rest of the world only through two National highways. But frequent economic blockade lightening general strike, armed ransom extorson, and bad road conditions make these lifeline life-threatening for truckers. The film journeys a group of truckers through these unfavourable highways putting their lives on the frontline, ferrying essential commodoties to serve the three million people of Manipur. The film is produced by the Films Division.
Bobby Wahengbam was the Swarna Kamal awardee of the Best Writing on Cinema in his book-Matamgi Manipur: The First Manipuri Feature Film in the National Film Awards 2017. An active member of Manipur Film Journalists and Critics Association and Film Society of Manipur, he graduated from St.Xavier's College, Mumbai and obtained Master degree from University of Mumbai. A Diploma on Film production from Xavier's Institute of Communication, Mumbai, he had three-year stint as Assistant Director in Mumbai under Gyan Correa and Sanjay Talreja. He acted as protagonist in Manipuri feature film- Meichak (2000) directed by L. Banka Sharma. His documentaries- Joseph's son and Roshni were screened at Mumbai International Film Festival (MIFF) organised by the Films Division in 2008 and 2010 respectively.
Maipaksana Haorongbam was a national award winning film maker whose feature film- Eibusu Yaohanbiyu bagged the Best Regional film in Manipuri in the National Film Awards 2015 and was also screened at the International Children Film Fesitival of India , Hyderbad organised by the Children Film Society of India in 2017. His Tangkhul- Manipuri feature film- Wonnam (2018) was selected in the Itanagar International Film Festival 2019. Maipaksana received the three-year Diploma Course in Film Editing from the Dr. Bhupen Hazarika Regional Film and Television Institute, Guwahati in 2004. He was a Marter Degree in Manipuri Literature from Manipur University in 2014.
Amar Maibam is son of legendary film maker M.A. Singh. After learning the nuances of filmmaking from his father and Graduation from Manipur University, he learned a one-year Cinematography course from Kolkata Film and TV Institute. He made his directoral debut with a documentary entitled City of Victims (2009). Highways of Life has been recently conferred with the best film award at the Liberation Docfest 2020, Dhaka and shown in competition section of many other reputed film festival including Kathmandu International Mountain Film Festival.