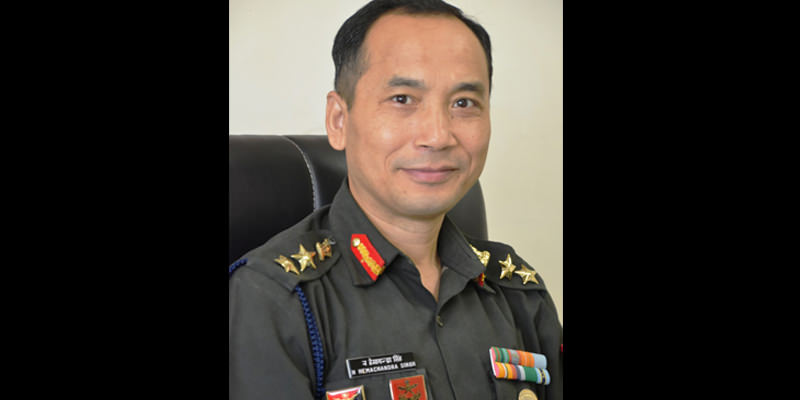 TMB Report
Imphal: Sainik School Imphal Alumni Association (SSIAA) has congratulated Colonel Ningombam Hemachandra on being appointed as Brigadier in the Indian Army.
As informed by SSIAA in a press release, Col. Ningombam Hemachandra was born in Khongman Zone 5, Imphal East. He is the youngest amongst six children of Late N Ibochou Singh and Late N Noyonshakhee Devi. He did his early schooling from National Children School, Khongman and studied in Sainik School Imphal. After completing Electrical Engineering from NIT Hamirpur, he joined Indian Military Academy and passed out with Technical Silver Medal for being first in merit amongst technical/engineering cadets.
It conveyed that the Officer was commissioned to 268 Engineer Bridge Regiments (PMS) on June 13, 1998 and has served in counter insurgency operations in Kashmir, Nagaland & Assam.
He was awarded Chief of Army Staff Commendation Card for gallantry during Kashmir tenure. He has served one year in Congo as part of United Nation Mission.
For command tenure, he was Commander Works Engineer (CWE) at Mamun (Pathankot). The Officer has done prestigious Defence Service Staff College from Wellington and attended Higher Command Course, it divulged.
It also conveyed that the Officer has been approved for rank of Brigadier and would be seventh from Manipur to join the achievements of Lt Gen K Himalaya Singh (Retd), Lt Gen L Nishikanta Singh (Retd), Brig L Ibotombi Singh (Retd), Brig S Premjit Singh, Brig N Romeo Singh and Brig K Jiten Singh.
Ningombam Hemachandra is married to Sonika Dogra from Himachal Pradesh who did engineering with him. They are blessed with son Aryamann who is co-founder of FORMI, a young entrepreneur who has taken break from Computer Engineering from MIT Manipal to focus on the Startup.
Their daughter Ananya is studying Electronic Engineering from MIT Manipal. Colonel Hemachandra loves to play badminton and regularly participates in marathon. He is kind hearted down to earth gentleman, an avid reader and published book titled "Admission No. 857", a book on life in Sainik School Imphal, it added.
The association (SSIAA) congratulated Colonel Ningombam Hemachandra Singh (Adm. No. 857) on this great achievement and wished him good luck, success and more laurels in all his future endeavors.