TMB Report
Imphal: A team of Churachandpur Police Station led by its OC Singngat Thangpu Tonsing has arrested two persons along with huge contraband of Brown Sugar weighed 5.148 Kgs.
According to a source, the two persons have been identified as T. Thangmuanlal (28) S/o Tuanson of Dailon village, Thanlon under Pherzawl district and Thangsonmuan (36) S/o Goukhozam of Vengnuam, New Lamka under Churachandpur district.
The individuals and drug possession was successfully apprehended based on reliable information received of transport of contraband drugs from Singngat to Churachandpur along Tidim road at around 10.30 PM on Thursday.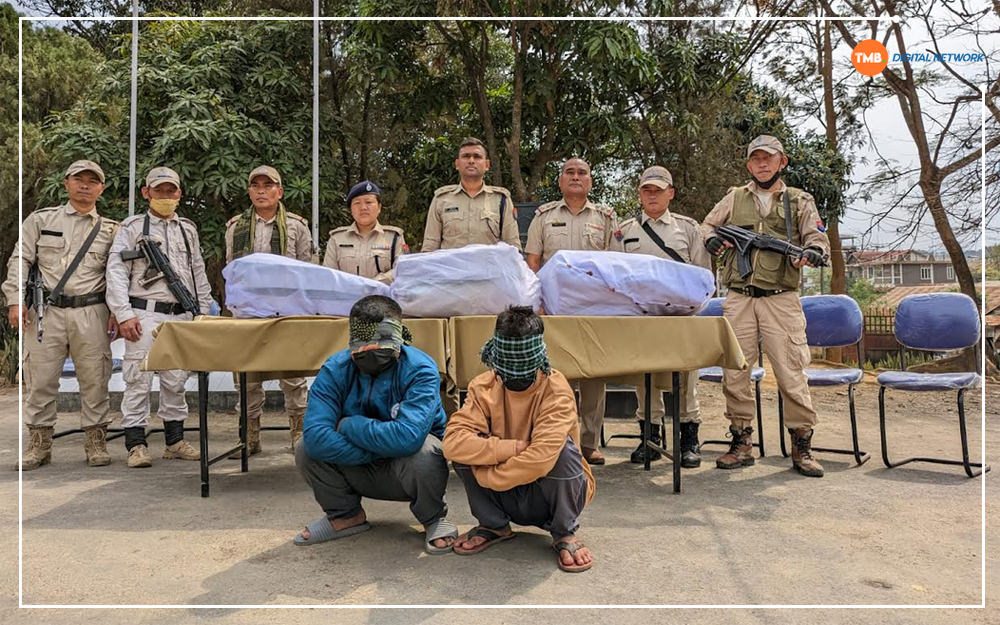 On receiving the information, immediately, a team was set up led by OC Singngat and they started frisking checking at Sumchinvum village. EM was also requisitioned for the purpose, source added.
At around 11:30 PM, two suspected vehicles DIO Black colour and Activa Red colour without registeration number were seen. The two vehicles were checked thoroughly in the presence of EM and civil witnesses where two white jute bags containing 286 and 143 soap cases respectively of suspected brown sugar were found, informed a source.
On the spot it was weighed and the weight cane to be 5.148 Kgs or 5148 grams of brown sugar. The items were sealed at the spot in the presence of EM and civil witnesses.
On preliminary interrogation the accused disclosed that one Bolero and one white Gypsy were expected to receive the illegal consignment near Haijang village. On arrival of the PS team the two vehicles were found but the occupants had abandoned the vehicle. The two vehicles were also seized in the case, added the source .