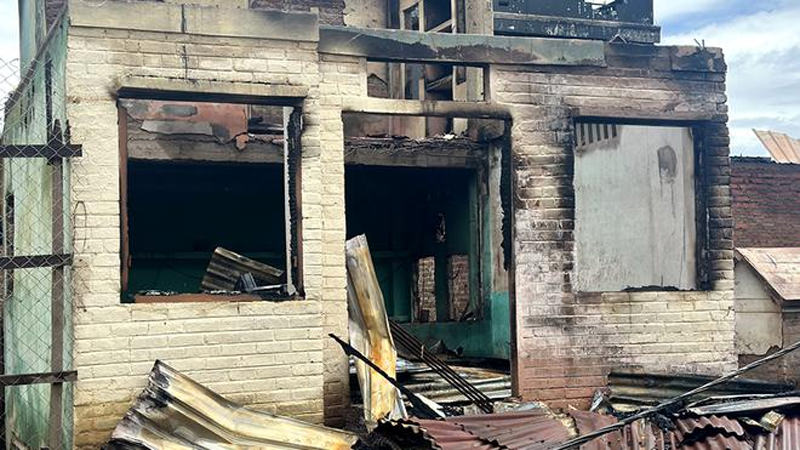 Imphal (Agency): "I was asked to pay ₹30,000 'tax' to militant outfits as a support in the ongoing conflict," said Venkatesh (name changed to protect privacy), who fled to Tamil Nadu in May after the violence broke out. He said the 'tax' can range from ₹30,000 to ₹10 lakh, depending on how large the business is.
With 45 Tamil homes and shops burnt down in Moreh, a town in Tengnoupal district bordering Myanmar, according to government officials, the strong trader community is under pressure to support the fight financially, or leave.
"If I give them money, my Meitei friends will see it as support to their enemy. I can't take sides. They are both my friends," he adds. The houses and shops caught fire as they were adjacent to Meitei properties and were not burnt intentionally.
He explains that Indian goods like steel, aluminium, and lungis are in demand in Myanmar, and plastic and electronic goods are brought from across the border to Imphal.
"The Chief Minister can influence security forces in Tengnoupal, hence Kukis want the support of other communities like Tamil, among others, to strengthen their position. They are inviting other communities to come together to demand a separate administration," the spokesperson of Kuki Inpi Tengnoupal, Kaikholal Haokip, said.
This is not the Tamil Community's first time facing 'tax' pressure from militant outfits. The harmonious integration of Tamils with local communities in 1995 was disrupted when a similar imposition was made. In the ensuing conflict, the community's size shrunk from 10,000 odd members to roughly 3,500. With this year's conflict, it has further shrunk to 3,000.
With the ongoing conflict, the cost of essentials has skyrocketed. "We used to get 5 kg rice per person from the ration allotment, which has been reduced to 3 kg," Bala, the general secretary of Tamil Sangam, said. Tomatoes now cost ₹250-300. The price of vegetables and pulses has doubled, too.
Several members of the Tamil community depend on loans and donations from friends outside the State as both the Central and Manipur governments have not supported them, said Radhaswami, a 62-year-old who had a furniture shop until is burnt to the ground on May 3.
"Moreh belongs to everyone. We have built our lives there and lived there for generations. Our Tamil brothers in Moreh identify as Manipuri. They too have lived for generations," says Indrani, a Meitei rescued from Moreh and currently living in Imphal.
Fearing for their safety, several members of the Tamil Community in Manipur refused to speak on record. They told The Hindu that the tension has increased and are reconsidering living in the Northeast state. "I want to live here; business in Moreh is perfect. I wouldn't get such opportunities elsewhere, but not at the cost of my life. When all this is over, perhaps I will return," Raman, who has moved to Guwahati, added.
Moreh has a smattering of Biharis, Punjabis, Gorkhas, and Bengalis, with Tamils being the second largest community after the Kuki. The area is now a focus for Meiteis too, who are no longer allowed to visit.
The town may provide more business opportunities for Tamils in the future, but only if other ethnic groups continue to live, Raman explains. The Tamil population will further reduce if peace is not restored. (Courtesy: The Hindu)