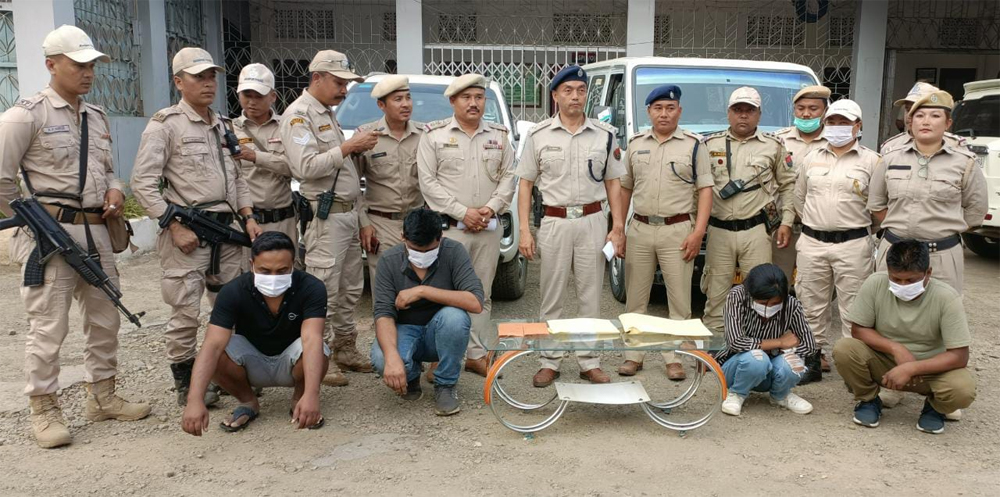 TMB Correspondent
Kangpokpi: Continuing drug seizure in the State, Kangpokpi Police seized Brown Sugar weighing 1.08 Kg along the National Highway-2 while conducting intensive regular frisking and checking and arrested four individuals in connection with the case on Monday.
The intensive regular frisking and checking of vehicles was conducted under the overall supervision of SP Kangpokpi Th. Vikramjit Singh, MPS and under the direct supervision of OC Kangpokpi Inspector Kh. Sunilkumar Singh.
SP Vikramjit while speaking to the media during a press conference held at the conference hall of SP Office Kangpokpi said that during the intensive regular frisking and checking of vehicles at Check Post of Kangpokpi Police Station, one passenger winger vehicle bearing number MN-06LA- 3936 coming towards Kangpokpi was stopped for checking and while checking one after another, two occupants inside the Winger were found behaving in a very suspicious manner.
He said that the two occupants were tactfully examined separately at the spot and during which the lady occupant admitted the presence of contraband drugs inside her backpack (black colour) in which she transported the same together with the other male occupant sitting beside her.
The female occupant has been identified as Asheibam Thoibi Devi (38), wife of Nongthombam Premananda Singh of Huikap Mayai Leikai, Imphal East and the male occupant has been identified as Md. Abdul Matalip (40), son of MV Kashim of Thoubal Moijing Wangma Taba, Mayai Leikai, Thoubal district.
The SP continued that in the presence of an Executive Magistrate, SDC/BO Kangpokpi and Addl.SP (L&O) Tholu Rocky Pou, MPS, Kangpokpi, one transparent polythene bag containing suspected Brown Sugar weighing 1.018 kg was seized on production by Asheibam Thoibi Devi which was concealed inside the bottom of the backpack by observing all legal formalities.
The passenger Winger vehicle B/R. No. MN-06LA- 3936 was seized and the two accused persons were also arrested at the spot. Hence, a regular FIR No. 11(4)2023 KPI-PS U/S 21(C)/29/60(3) ND&PS Act has been registered for investigation, he conveyed.
He also said that on preliminary interrogation of the accused persons, it has been divulged about the involvement of Narendra Mahawar (39), son of Madanlal Mahawar of Thangal Bazar, Imphal West in transferring of money through hundy and Md. Abdul Nasir (33), son of Md Abdul Rahim of Lilong Turel Ahanbi Khongnang Makhong, PS-Lilong, Thoubal District in connection with the case.
Upon their disclosure, police teams led by OC/KPI swung into action and managed to arrest the two persons along with one Fortuner car B/R.No. AS-01DT-2876 from different locations.
The four arrested accused persons were produced before the JMFC Kangpokpi and remanded them into police custody for eight days till April 25, he informed.
Particulars of seized articles were one transparent polythene bag containing suspected Brown Sugar weighing 1.018 Kg including the weight of the transparent polythene bag; one registered Winger (Passenger vehicle) bearing number MN06LA-3936; one Fortuner Car Bearing R/No. AS-01DT-2876; and six number of mobile phones.