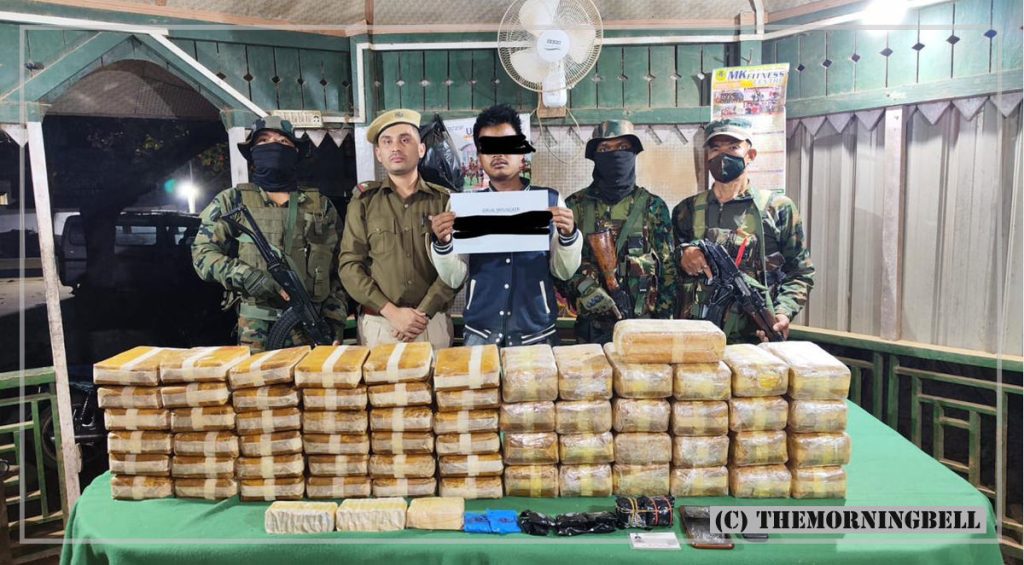 TMB Report
Imphal: In yet another huge drug haul, a combined team of 5 Assam Rifles and Moreh Police led by Moreh Town Company Commander and assisted by ASI Mujibur Rahaman including Rifle Women and Women Police Constables arrested a man with WY tablets worth Rs 25.31 crore at Moreh on Thursday.
According to a source, while carrying out routine patrolling in and around Moreh town area at around 9.15 PM, a man came in a suspicious manner at Phaicham Veng, Moreh Ward No. 3 and entered inside a house. The security forces rushed to the house and asked him for suspected movement. He was confused to reply to the team and tried to escape through the back door of the house. Immediately, the team chased him and one plastic sack containing some suspected WY tablets was found near his bed.
The team then asked him to open the locked cupboard but he refused to do so and told the security personnel that there was nothing inside the locked cupboard. Later, the locked cupboard was opened by him and found a huge quantity of suspected WY tablets.
25 numbers of big packets containing suspected WY tablets, 36 numbers of medium packets containing suspected WY tablets and three numbers of small packets and 18 numbers of smaller packets containing suspected WY tablets were found inside the cupboard, the source disclosed.
All the packets containing suspected WY tablets were concealed in two plastic sacks (yellow in colour) and three plastic polythene bags (black in colour).
The individual identified himself as Lenzo Lenchinjang Zou (29) alias Philips, son of Longlenhao Zou of Moreh Ward No.2, Tengnoupal district presently staying at Phaicham Veng, Moreh Ward No. 3, Moreh in a rented house with his wife. The tablets were seized from his possession at around 10.05 PM and he was arrested at around 10:20 PM.
The total weight of the seized suspected WY tablets is 56.255 kg including the packaging materials and its cost in the international market is Rs. 25,31,47,500, it informed.
One Vivo phone along with one Burmese SIM card and one Airtel SIM card, one Nokia keypad mobile phone having an Airtel SIM card and one Aadhaar card in the name of Lenzo Lenchinjang Zou were also seized from his possession. The recovered items along with the individual have been handed over to Moreh Police Station for further necessary legal action, the source added.