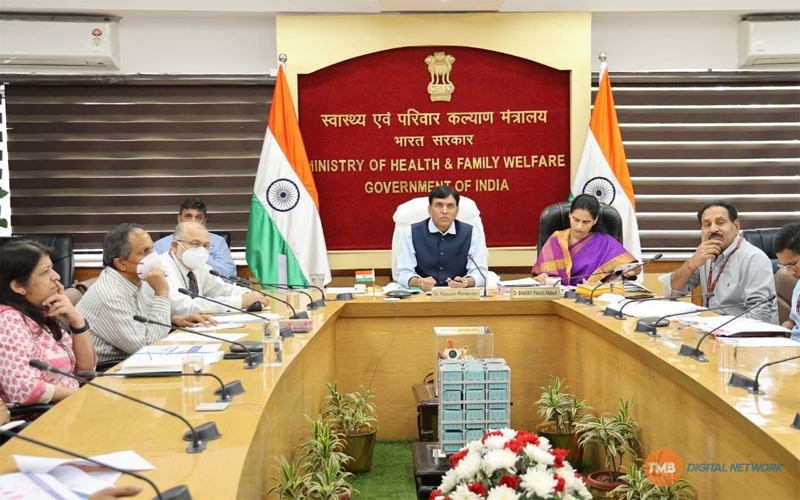 Agency
New Delhi: Union Health Minister Mansukh Mandaviya on Friday chaired a high-level meeting to discuss the surge in Covid-19 cases in the country and advised states to remain vigilant and prepare for effective management of the virus. He instructed officials to conduct mock drills of all hospital infrastructure on April 10 and April 11.
The meeting came as the number of fresh coronavirus cases in India reached 6,050 on Friday, which is the highest in 203 days (since September last year).
During a virtual meeting with state health ministers, principal, and additional chief secretaries, Mandaviya emphasised the need to identify emergency hotspots through the monitoring of influenza-like illness (ILI) and severe acute respiratory infection (SARI) cases. He also highlighted the importance of increasing testing and vaccination rates while ensuring that hospital infrastructure is prepared for potential surges in cases.
He urged the State Health Ministers to conduct mock drills of all hospital infrastructure on April 10 and 11 and review the health preparedness with district administrations and health officials on April 8 and 9, an official statement read.
In addition to increasing the capacity for genome sequencing and whole genome sequencing of positive Covid-19 samples, Mandaviya emphasized the need to create awareness about the importance of following Covid-appropriate behavior.
"Centre and States need to continue working in collaborative spirit as was done during the previous surges for COVID-19 prevention and management", he said.
During the meeting, it was noted that 23 states and union territories had an average number of Covid-19 tests per million people that were below the national average. Despite the emergence of new Covid-19 variants, Mandaviya reiterated that the five-fold strategy of "Test-Track-Treat-Vaccinate and Adherence to Covid Appropriate Behaviour" remained the proven strategy for effective Covid-19 management.
States and union territories were informed that India has been experiencing a consistent increase in Covid-19 cases, with an average of 4,188 daily cases reported in the week ending on April 7, compared to 571 cases in the week ending on March 17. Additionally, the weekly positivity rate had risen to 3.02% in the week ending on April 7. However, globally, there has been an average of 88,503 daily cases reported during the same period, with the top five countries contributing 62.6% of the total global cases in the last week.
The World Health Organization (WHO) is currently closely monitoring one variant of interest (VOI) known as XBB.1.5, while six other variants (BQ.1, BA.2.75, CH.1.1, XBB, XBF, and XBB.1.16) are being monitored, the government said.
The briefing highlighted that while the Omicron variant and its sub-lineages remain the predominant strain, most of the monitored variants have minimal or no significant transmissibility, disease severity, or immune escape. The prevalence of the XBB.1.16 variant increased from 21.6 per cent in February to 35.8 per cent in March 2023, but there is no evidence of an increase in hospitalisations or mortality associated with this variant.
According to the latest INSACOG bulletin, the newly emerged recombinant coronavirus variant XBB.1.16 is accounting for 38.2 per cent of the infections to date. The bulletin highlighted that Omicron and its sublineages remain the predominant variants in India, with an increase in infection rates observed, particularly in the western, southern, and northern regions of the country.
The Health Minister was informed that while India has achieved over 90 per cent coverage of primary vaccination, the coverage of precautionary doses remains low. Mandaviya advised states and union territories to scale up vaccination efforts for all eligible populations, particularly the elderly and vulnerable population groups.
Furthermore, the briefing highlighted that eight states in India are currently reporting a high number of Covid-19 cases. Ten or more districts in Kerala, Maharashtra, and Delhi are reporting more than 10 per cent positivity, while more than five districts in Karnataka, Kerala, Maharashtra, Delhi, Himachal Pradesh, Tamil Nadu, and Haryana are reporting more than 5% positivity.
Mandaviya requested all the State Health Ministers to personally monitor and review the preparedness of all logistics and infrastructure including the availability of sufficient designated hospital beds and ensure that there is adequate stock of essential medicines. States were also asked to regularly update their Covid data on the Covid India Portal, the statement read.
Dr Bharati Pravin Pawar, Union Minister of State for Health emphasised on the criticality of timely preparedness and management of Covid-19. She urged states to prioritize the implementation of their share of the Emergency COVID Response Package-II (ECRP-II) to enhance health infrastructure. Additionally, she requested states to strengthen their monitoring mechanisms and remain vigilant in light of the increase in tourism.
Number of active cases in India rose to 28,303 on Friday and the death toll increased to 5,30,943 with 14 deaths, three reported from Maharashtra, two each from Karnataka and Rajasthan, one each from Delhi, Gujarat, Haryana, Himachal Pradesh, Jammu and Kashmir and Punjab, and one was reconciled by Kerala. The daily positivity rate has been recorded at 3.39 per cent and the weekly positivity rate at 3.02 per cent. (Agency: News18)