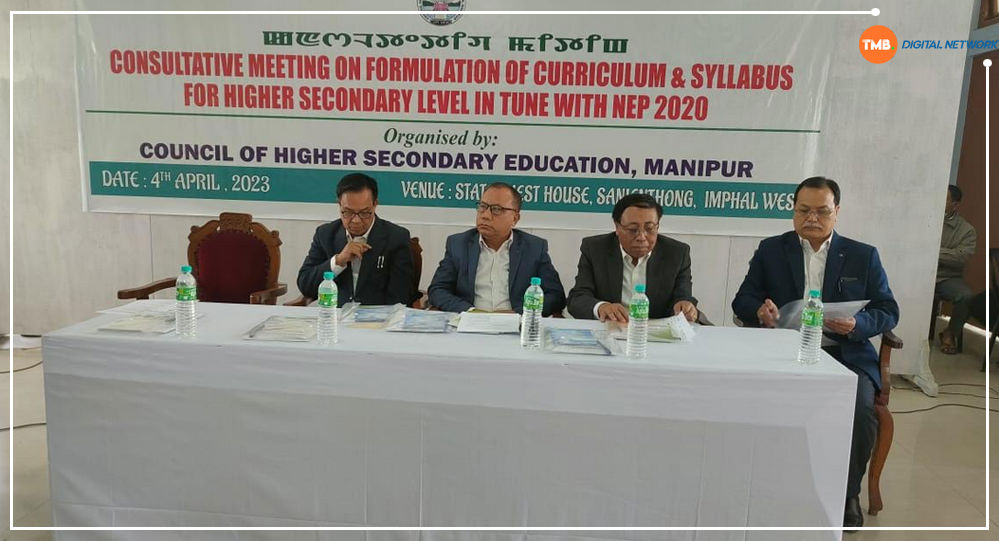 TMB Report
Imphal:Council of Higher Secondary Education Manipur organised a one day consultative meeting for formation of curriculum and syllabus for Higher Secondary Level in tune with National Education Policy,2020 at State Guest House, Sanjenthong on Tuesday.
The consultative meeting was participated by COHSEM Chairman, T. Ojit, Secretary Ch. Biren, Retd. Director of College Development Council,MU Th. Ratankumar and Retd.Prof of Manipur College, Elangbam Iboyaima along with representatives of various schools and colleges, teachers and student bodies.
Addressing the meeting, COHSEM Chairman T. Ojit informed that National Education Policy,2020 is one of the best policy in the Education system of the country which far beyond compared to other countries. He stated that the policy has been able to fill the loopholes of the previous policy and education system while providing quality education and fun to the students.
He pointed out that the policy includes provisions to include learning of indigenous language till Class 8 which will help in preserving the indigenous languages of different communities. The policy also includes vocational courses which will also help students to generate income and initiate self employment and aid the economy of the state.
He said that the policy which is bringing change in the country must also be implemented in the state also and COHSEM has organised the meeting for the first time to formulate the curriculum and syllabus.
He stated that the resolution of the meeting will be adopted at the earliest by COHSEM. The meeting was organised in two sessions and Retd.Prof. of Manipur College Elangbam Iboyaima was the Moderator for the first session and Retd. Director College Development Council, MUg Th. Ratankumar for the second session.
Asst. Prof.Manipur College, Dr. S. Birjit spoke on Open Learning for Higher Secondary State with Reference to NEP 2020 and Asst. Prof. DM College of Teachers Education, Kh. Dineshkumar on the topic Empowering the Content of the Curriculam through divergent scope for measuring demand skill and Principal of L. Sanoi College Nambol, Dr. W Jotirmoy on Child Oriented Examination as resource persons for the first session.
Principal of Hindi Teachers Training College Dr. N Sanjoy elaborated on Enabling ITC for blended learning in the Secondary school, Principal SK Womens College Nambol, Dr. W Robindro spoke on the topic Importance of NEP 2020& Its implementation to higher secondary level , Associat Prof. GP Womens College Dr. M Suresh gave his speech on the topic NEP 2020 its Pros & Cons in higher secondary education and Principal of Lilong Haoreibi College, Dr. Raheijuddin Sheikh on Integration Vocational Education in Higer secondaory level through NEP 2020 as resource persons for the second session.