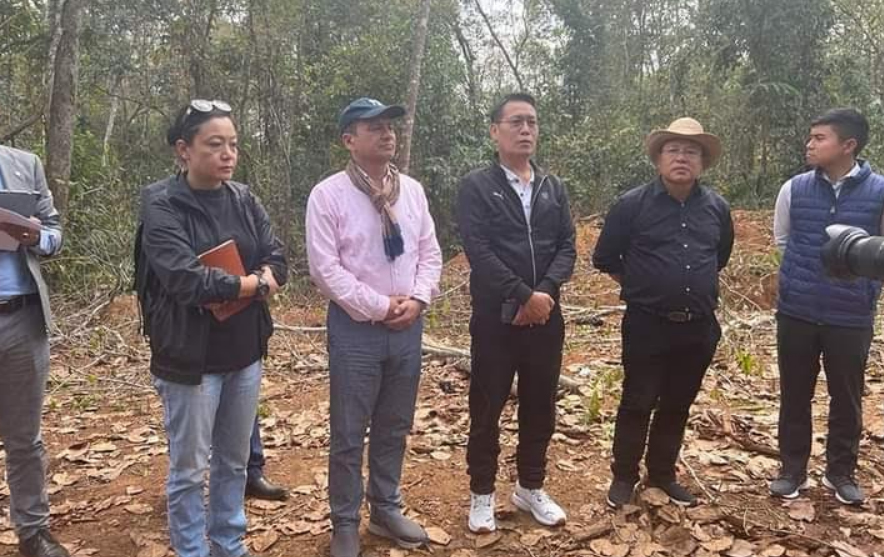 TMB Report
Imphal: A team of Cabinet Sub-committee led by its Chairman Letpao Haokip including officials of various department under Chief Minister N Biren Singh's supervision on Wednesday inspected and reviewed the
places of Gamphajol village in Chandel District for setting up a temporary shelter home for the Myanmarese refugees on humanitarian grounds.
Cabinet Sub Committee members – Minister Th Basanta Singh, Minister Awangbow Newmai and other top Government Officials also took part in the inspection visit. The team interacted with the refugees
During the interaction, Minister Letpao Haokip said that another temporary shelter home at Gamphajol Village located along the Indo-Myanmar border for the Myanmarese immigrants who fled from their country due to a tense situation in their country. Every Myanmar immigrant staying in the temporary shelter home will be issued Identity card. Those refugees without such Identity cards will be arrested as per law. If such refugees possessing I-cards are found involved in illegal activities such as drug smuggling, they will be arrested and jailed as per law of the land.
Education and Law Minister Th. Basanta kumar said that state government decided to provide temporary shelter home for the Myanmarese refugees on humanitarian ground. Such refugees possessing Identity cards issued by the state government will not be allowed to mix with the local populace. The refugees who are found staying in the villages without Identity cards will be arrested and sent to Jail.
Those Villagers who provide shelter to the immigrants without giving information to the Authority will also be arrested. State Police and Assam Rifles will closely monitor the temporary shelter homes all the
time.
The Myanmar nationals would be deported to their land soon after the war-like situation in Myanmar settles down. Not a single Myanmar nationals will be allowed to continue to stay in the state, he
maintained.
IFCD Minister Awangbow Newmai said Manipur government will provide food to the immigrants staying at the shelter home. Those who fail to report at the shelter home for due identification within a stipulated time will be arrested. The surrounding of Shelter home will be fenced.
Notably, State government had earlier identified Haolenphai village in Tengnoupal district for construction of temporary houses to accommodate the Myanmarese refugees. Earlier, District Magistrate Tengnoupal had directed the general public to report to the respective Police Stations/law enforcing agencies/Security agencies in the district in case if any one identified or suspected to be a Myanmar national is detected or found living in their respective villages.
The facilities for providing temporary accommodation, food, safety and medical helps are being developed by the Government at Haolenphai village, Moreh Sub Division, Tengnoupal District. Such illegal
immigrants will not be arrested or detained. They will be extended all humanitarian assistance temporarily till they are properly being deported or any further decision as regard to them is taken up by the competent Central and State Government Authorities, it maintained.
The DC warned that anyone or any Village Authority found harbouring/providing accommodation/shelter without the permission of the Government, stringent legal action as deemed fit shall be taken up as per law of the land and prosecuted.