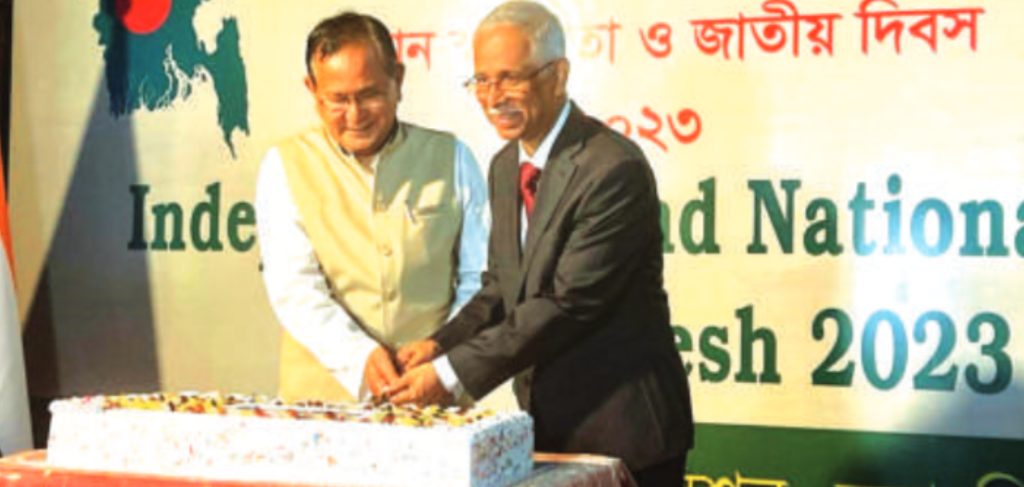 TMB Report
Imphal: Minister of State for External Affairs Dr RK Ranjan said that India is committed to developing greater interlinkages and connectivity with Bangladesh across all spheres including power, green energy,
fintech and the cutting edge areas of space technologies and peaceful uses of nuclear energy contending that there is an endless horizon of possibilities with both countries having young and dynamic populations.
Attending the 53rd Independence Day of Bangladesh hosted by Bangaladesh High commission, MoS Dr RK Ranjan conveyed his best wishes to the people of Bangladesh on the occasion the country's Independence day.
He said that India-Bangladesh relationship is founded on the values of shared history, sacrifices and culture with a unique bond that is nurtured by our shared heritage. Two major pillars of Indian diplomacy Neighborhood First and Act East policies find expression in our vibrant ties with Bangladesh. Our interconnectedness is assuming new dimensions, as we create deeper economic ties and work together, for the betterment of our people and the region, he said.
He said that at the core of the India-Bangladesh relationship lies a deep shared history. When the people of Bangladesh rose against brutal oppression under the heroic leadership of Bangabandhu, there was spontaneous support for them in India. India marshalled all its resources to host approximately 10 million
people fleeing persecution.
Some of us would recall the declaration of independence of Bangladesh on 26th March 1971, which was broadcast over Akashvani and the massive 'Recognize Bangladesh' marches in India that it spontaneously led to.
"Today we honour the sacrifice of those untold millions who laid down their lives for the cause of Bangaladesh. We honour the heroes who liberated the people of Bangaladesh from oppression, the fearless spirit of those brave people that brought forth a nation. The most fitting tribute to the supreme sacrifices of that time lies in the inclusive society of Bangladesh and in its remarkable socio-economic development. Bangladesh has Inspired the world by taking the lead in the development journey, in a way that deserves every praise Ranjan maintained.
He further said that has been our effort, to ensure that our cooperation focuses on meeting the needs of the people of both our countries. Bangladesh is now India's largest development partner, largest trading partner in the region and our largest worldwide visa services operation. This is naturally also a result of the high level political attention that this relationship receives in both countries. The frequent and warm exchanges between Prime Minister Narendra Modi and Prime Minister Sheikh Hasina demonstrates the strength of the partnership between India and Bangladesh, and the importance it holds for our shared future, he added.
He said India is committed to continue working with Bangladesh in a manner that benefits our people, especially the communities that live along the border. The signing of a historic agreement on utilization of water from common river Kushiyara by both India and Bangladesh, during the recent visit of Prime Minster Sheikh Hasina is one such example.
He said that in the difficult times of Covid-19, we have seen the benefit of enhanced connectivity.
India's railway network was efficiently utilized to transport liquid medical oxygen and other essential
commodities to Bangladesh. People of India's Northeast have also benefitted from Bangladesh's
generous support, as petroleum products from Meghalaya to Tripura moved through Bangladesh
during natural calamity.
He said that the recently inaugurated India-Bangladesh Friendship Pipeline, connecting Siliguri
with Parbatiipur, is a milestone in our joint effort towards energy security in turbulent times. We
will continue to work together to strengthen multi-modal connectivity to not only benefit our countries, but also sub regional cooperation and prosperity.