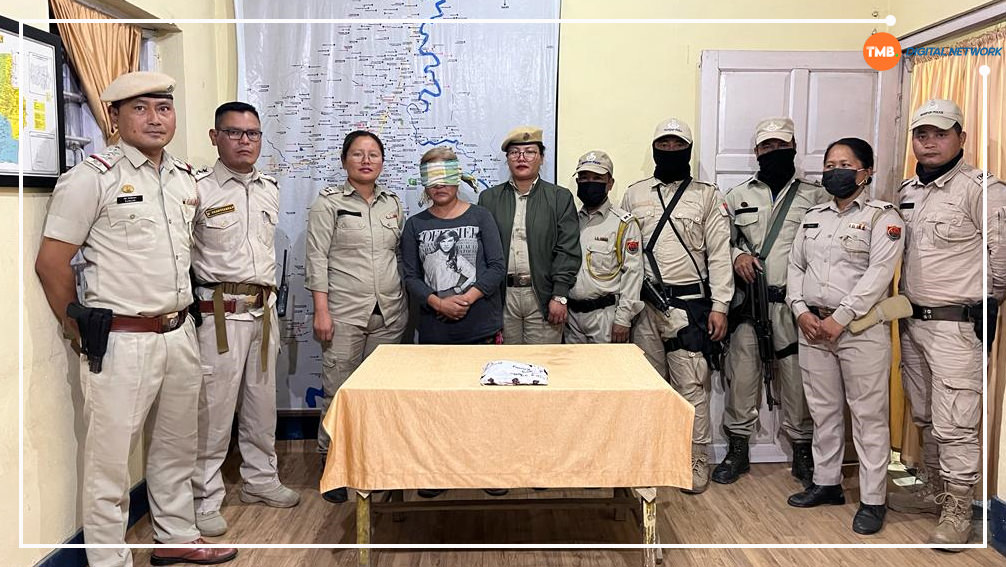 TMB Correspondent
Churachandpur: Churachandpur Police on Sunday nabbed a woman who was involved in selling narcotic drugs from her residence at New Lamka area in Churachandpur district and recovered a number of drugs
from her possession. The woman was identified as one Melody Vungnemkim (45), wife of T. Kamsuanlian of Jordan Veng, New Lamka, Vengnuam South, Churachandpur district.
As per Churachandpur Police, at around 5 pm, they received reliable information that one Melody Vungnemkim was frequently indulging in selling narcotic drugs at her residence. A team of Churachandpur Police led by OC Churachandpur Police Station, OC Women Police and SI S.Lialian rushed to the area and identified the house.
As requested, one Gazetted Officer/Medical Officer of the locality arrived at the spot for house search and other formalities. During the house search, one transparent polythene containing suspected Brown Sugar, ten numbers of tobacco khaini cans containing suspected Brown Sugar and 198 suspected WY tablets were recovered from the house.
On weighing, the suspected Brown Sugar contained in the transparent polythene was found to weigh 10 gram including the weight of the polythene and the suspected Brown Sugar contained in the ten numbers of tobacco khaini cans were found to weigh 10 gram excluding the weight of
the tobacco cans.
The recovered suspected drugs were wrapped with a white cloth, packed and sealed using a facsimile in the presence of a Gazetted Officer and independent witness. Accordingly, the recovered items were seized at 5.45 pm and the individual was arrested at 5.50 pm by observing formalities, police said. A case under FIR No.34(3)2023 CCP-PS u/s 21(b)/22(b) ND& PS Act has been registered for
investigation.