TMB Correspondent
Kangpokpi: In a shocking incident, a teenager who was appearing in the ongoing Class XII examination conducted by COHSEM was brutally murdered at Sharon Veng at Motbung model village in Kangpokpi district on Saturday at around 8.30 pm.
Following the incident, an unpleasant environment prevailed at Motbung model village as enraged mobs resorted to disrupting traffic flow along the National Highway 2 moments after the incident.
The victim identified as Seigunlal Misao (17) was the single child (son) of Lenkhothang Misao of Sharon Veng, Motbung village. He was shot dead by unknown miscreants a few metres away from his residence with the motive behind the killing yet to be ascertained.
CCTV camera installed at Letpao Healthcare Centre captured the movement of some individuals including a lady coming in two-wheelers but their identity could not be established. According to denizens of Motbung village, the deceased Seigunlal Misao had a good moral character and he was very luminous in his studies. Son of a paralyzed father, the victim was brought up by his mother who worked in a quarry to support his studies.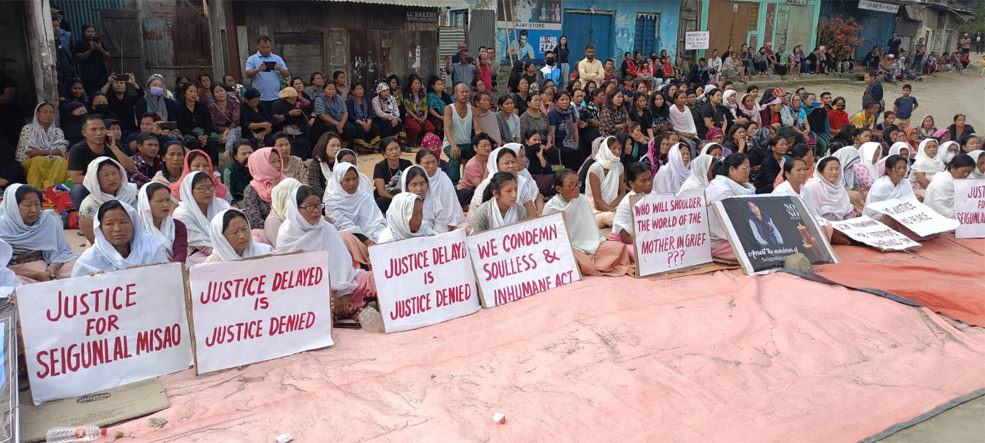 It was reported that the unknown miscreants fled the scene after committing the crime in a two-wheeler vehicle heading towards the Imphal side. Kangpokpi Police led by SP Th.Vikramjit Singh immediately swung into action to control the infuriated huge mobs. A forensic team arrived at the spot at around 12.30 am to conduct an investigation of the scene. Later, the dead body was retrieved by Kangpokpi Police and deposited at RIMS morgue for post mortem.
Meanwhile, a Joint Action Committee has been constituted in connection with the student's killing. A sit in protest was staged under the aegis of the JAC at Motbung model village in the morning demanding the State Government to nab the culprits at the earliest.
A lightning bandh was also enforced along the National Highway 2 from 9.30 am onwards disrupting vehicular movement at Motbung. Hundreds of protesters shouted slogans "We want justice", "Nab the culprits at the earliest", etc. while holding placards that read,
"We condemn soulless and inhumane act", "Justice for Seigunlal Misao", "Justice delayed is justice denied", "We will not rest until the murderers are caught", "He was just 17, shame on you murderers", "Today is Seigunlal, tomorrow????", "Book the culprits", "We shall mourn until justice is delivered", etc.
Supporters of the bandh were seen burning tyres, laying stones, benches, etc. along the highway. They thoroughly checked vehicles for emergency services. Speaking to the media, Motbung Village Authority Member Lamkholen Singsit while strongly condemning the merciless killing of Seigunlal Misao demanded the State Government to nab the culprits at the earliest. He also urged the government to look into the impoverished condition of the deceased's family.
Motbung Meira Paibi Secretary Konsam Ongbi Ranjana Devi said that they condemn the brutal murder of Seigunlal Misao in the strongest terms and demanded the government to arrest the culprits at the earliest.She said that if the culprits are not booked at the earliest, they will support the JAC movement at all costs to deliver justice to the victim and his family.
Local MLA Haokholet Kipgen also visited the victim's family and shared the pain and grief while conveying that he stands with them during their difficult times. The MLA also met with the protesters and the JAC along with the local bodies of Motbung and convened a joint meeting with the district administration and district police at the Motbung village chief's
residence.
After the meeting, the MLA urged the agitating mobs to calm down and relax the lightning bandh
while assuring them that he will convey the matter to the Chief Minister. JAC Convenor Paominlun Lhouvum termed the killing as 'barbaric and cowardice' and condemned it
in the strongest terms.
He also clarified that the lightning bandh was enforced out of anger and to draw the attention of the
government and that there was no intention to harass innocent commuters. He disclosed that following the intervention of the local MLA, the Chief Minister has invited themfor talks and that in honour of the invitation they decided to temporarily lift the lightning bandh. The JAC Convenor said that their demands include nabbing the culprits involved in the brutal murder of Seigunlal Misao, providing appropriate ex-gratia to the deceased's family and suitable government
jobs to the deceased's mother.
Later, after the meeting with the Chief Minister, the JAC Convenor informed that the Chief Minister
assured them to nab the culprits within three days. However, he cautioned that they will resume the agitation in case the culprits are not booked within three days.
Regarding the charter of demands, he said that owing to Sunday being a holiday, the Chief Minister
told them to meet on Monday and discussed it in the presence of the concerned officials. Meanwhile, Thadou Students' Association Sadar Hills, KSO Sadar Hills, Hangmi Students' Union and many other civil society organisations condemned the brutal killing of Seigunlal Misao.
KSO Sadar Hills stated that the merciless killing of Seigunlal Misao is an unpardonable crime, defying
all ethics and morals, and such acts of barbarism will only hamper peace and harmony thereby causing
unrest in the minds of the citizens