TMB Correspondent
Thoubal: A team of Khongjom Police busted an illegal Indian Made Foreign Liquor (IMFL) manufacturing unit at Khongjom Maning Leikai in Thoubal district on Sunday and seized several items used in preparing the foreign liquor.
As informed by a source, Khongjom Police received a tip off at about 9.30 am that illegal IMFL were being manufactured at a house located at Khongjom Maning Leikai. Shortly, a team of Khongjom Police Station led by its Officer-in-Charge Inspector K.Santosh Singh and SI. O.Inaobi Singh along with women police personnel under the overall supervision of senior SP Thoubal Jogeshchandra Haobijam, IPS, rushed to the spot and conducted a search operation at the residence of one Thokchom Bobo Singh (43), son of LateThokchom Nokul Singh of Khongjom Maning Leikai.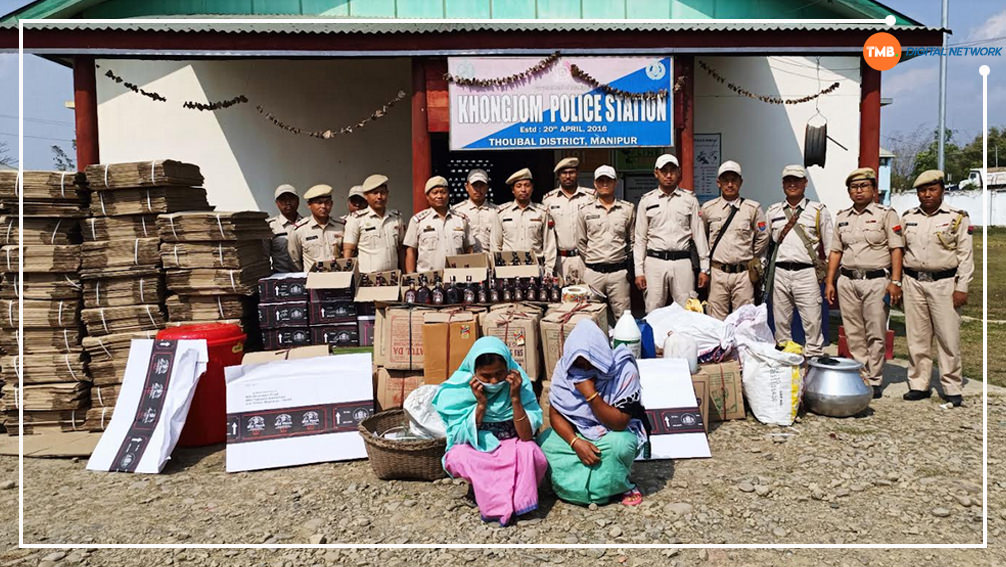 During the search operation, several items used in manufacturing illegal IMFL were seized by observing formalities. The seized items include eight cases of 750 ml Old Monk rum bottle, ten cases of 375 ml Old
Monk rum bottle, 37 numbers of empty bottles in three cartoon boxes, 44 bundles of carton boxes, 14 numbers of empty gallons used for preparing illegal liquor, four numbers of water jar, one plastic water container red in colour, one silver watercontainer, three numbers of bags containing plastic cap which was used to fit the bottles, three plastic jars containing substances suspected to be used as flavour for IMFL illegal liquor and one roll of sticker marked as Mc Dowell used for trademark. The source said that the main accused person was not found present at the home; however, the family members have been taken to Khongjom PS for further formalities.