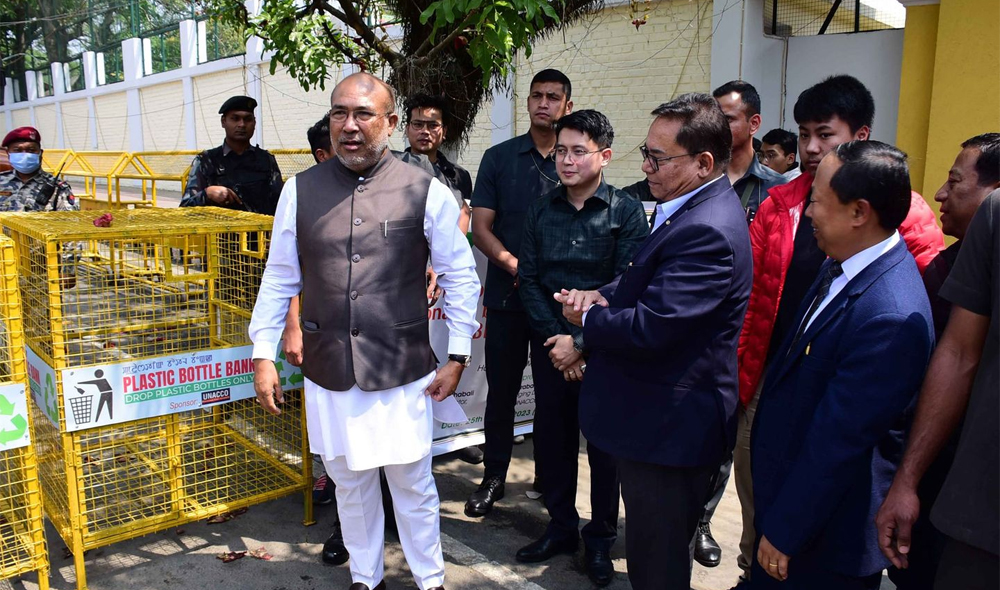 Imphal (DIPR): Chief Minister N. Biren Singh distributed plastic drop boxes to local youth club volunteers at the Western Gate of the Chief Minister's Secretariat on Saturday morning, appealing to the public against littering and disposing of plastic waste everywhere.
The Chief Minister distributed 22 Plastic Drop Boxes out of 58 numbers donated by the Babina Group, UNACCO and BPCL Distributors Association. Later, the Chief Minister flagged off an "External Press Conducted Tour at Nepal" for media persons from the same spot.
Speaking to media persons on the sidelines of the distribution event, the Chief Minister said that the distribution was part of the efforts to keep India neat and clean and a concerted effort of the Youth for Peace and Progress Manipur and prominent entrepreneurs and industrialists of the State towards making Manipur a plastic waste free State and lessen the problem of clogging drains and rivers due to plastic waste.
The Chief Minister said that these plastic drop boxes will be installed at public places for people to dispose of their plastic bottles and wastes into these boxes so that the waste may be further recycled.
Biren lauded BABINA Group of Companies Chairman and Managing Director Dr. Thangjam Dhabali Singh, UNACCO Managing Director Ningombam Irabanta, BPCL and all those involved for their endeavor.
Commending community involvement with local clubs coming out voluntarily to join in developmental works, the Chief Minister said that development of a society begins with small efforts and further appealed to all to join in the movement to make Manipur a garbage-free State.
The distribution event was also attended by MLA Th. Shyamkumar, Dr. Thangjam Dhabali Singh, Ningombam Irabanta, representatives of PPM and BPCL among others.
Meanwhile, after flagging off the media tour, the Chief Minister wished the team a safe return and a knowledge gaining exposure trip. The team consists of 40 members including five officials of the Directorate of Information and Public Relations. The tour will conclude on April 1.
The flagging off event was attended by IPR Minister Dr. Sapam Ranjan Singh, Public Health Engineering Minister L. Susindro Meitei, MLA Th Shyamkumar, Commissioner IPR M. Joy Singh and Director IPR H. Balkrisna Singh among others.