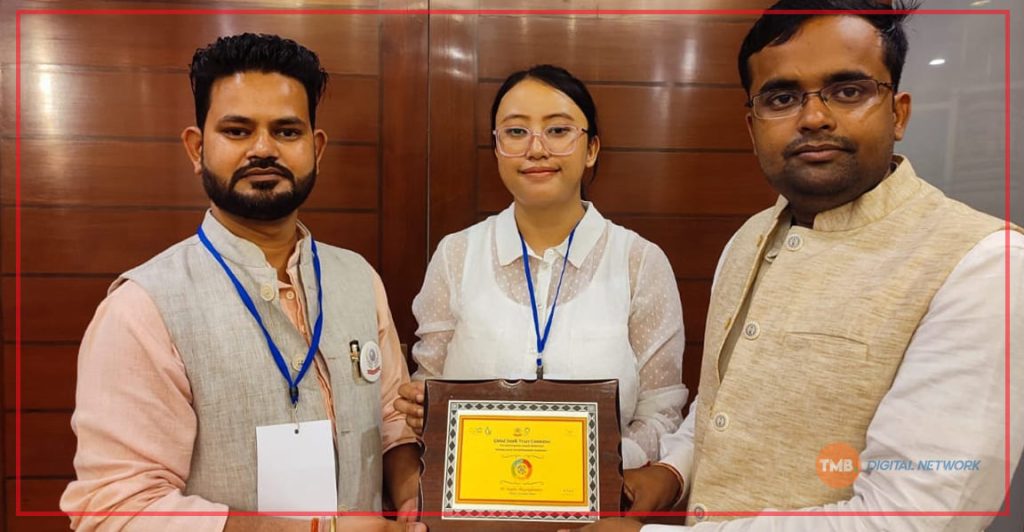 TMB Report
Imphal: Deepika Mayanglambam from Manipur was felicitated by Y20 Chair Anmol Sovit at the C20 India Chaupal Program organised by the Global Youth Peace Committee (GYPC) under the leadership of Braj Srivastava, Chairman GYPC, on Wednesday at the Seminar Hall of Lotus Temple, New Delhi.
The theme of the "Chaupal Program" was based on promoting quality education and civic space towards sustainable nation. Anmol Sovit, Y20 India 2023 Chair graced the occasion as the Chief Guest.
Youth 20 (Y20) is an official consultation forum for youth from all G20 member countries to be able to dialogue with each other. Y20 encourages youth as future leaders to raise awareness of global issues, exchange ideas, argue, negotiate, and reach consensus.
In her speech, Deepika Mayanglambam spoke about peace and wellbeing highlighting the importance of practicing kindness and understanding humanity for securing wellbeing of all in the society.
The event was attended by many changemakers, young achievers, social thinkers, CSOs, NGOs and volunteers across the country.
26-year-old Deepika Mayanglambam is the daughter of Late Mayanglambam Gyaneshwor Singh of Sagolband Moirang Leirak, Imphal West. She is a recipient of Netaji Subash Chandra Bose Memorial Award 2023 presented by the Government of NCT Delhi.
Deepika is a Wellness Professional and founder of Freedom From Mental Illness, a start-up working in mental health space. She completed her Masters in Sociology from Panjab University, Chandigarh.