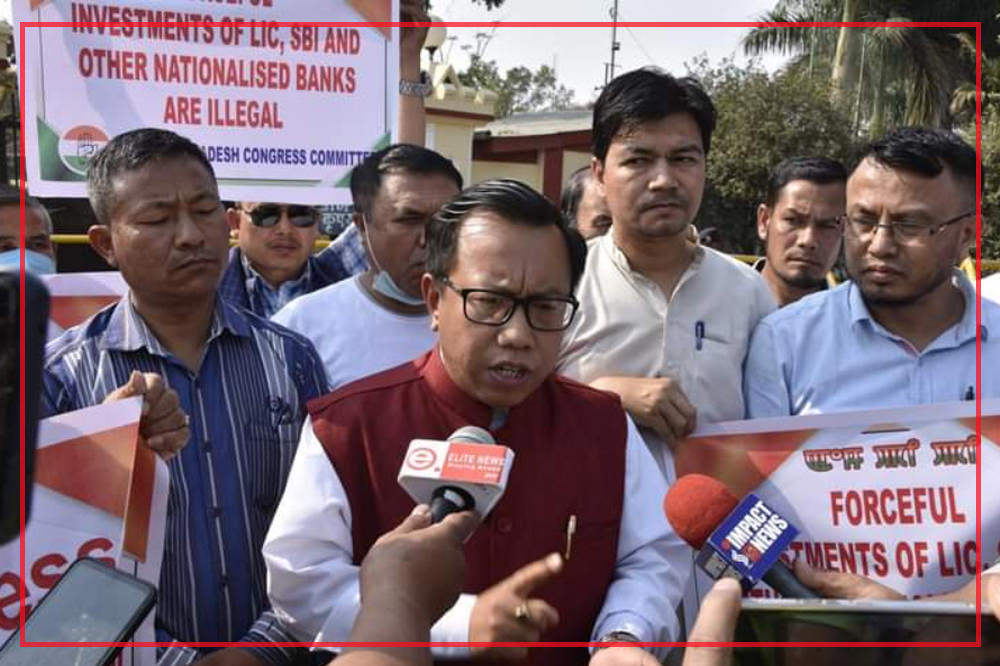 TMB Report
Imphal: Joining the nation-wide protest against the alleged Prime Minister Modi's "favouritism" to Adani, members of Manipur Pradesh Congress Committee (MPCC) stormed the Raj Bhavan on Monday.
The march to Raj Bhavan was joined by MPCC leaders, Office-Bearers of PCC, DCC & BCC, Mahila Congress, Youth Congress, NSUI and Seva Dal.
MPCC Vice-President N. Bupenda Meitei said that the statements of Rahul Gandhi and AICC President Malik Arjun Kharge were removed from the Rajya Sabha and Lok Sabha when they spoke up against Prime Minister Narendra Modi and Industrialist Adani on crony capitalism.
He said that it is a clear indication that democracy no longer exists in the country. During the regime of Congress Prime Minister PV Narasimha Rao and PM Atal Bihari Vajpaye, joint parliamentary committees were formed to probe into the scams including Mehta scam.
However, PM Modi maintains stoic silence when the Congress party demands JPC to probe into the investment of LIC, SBI in Adani conglomerate, he said.
He also said that every statement of Rahul Gandhi and Congress MPs has been removed from the proceedings of the Rajya Sabha and Lok Sabha when they mentioned Adani and Modi.
The Congress strongly condemns the crony capitalism policy of the Modi government in which the LIC and SBI were forced to invest in the Adani group to benefit Adani. The investment in the Adani group is the hard earned money of the poor Indians, the MPCC leader added.