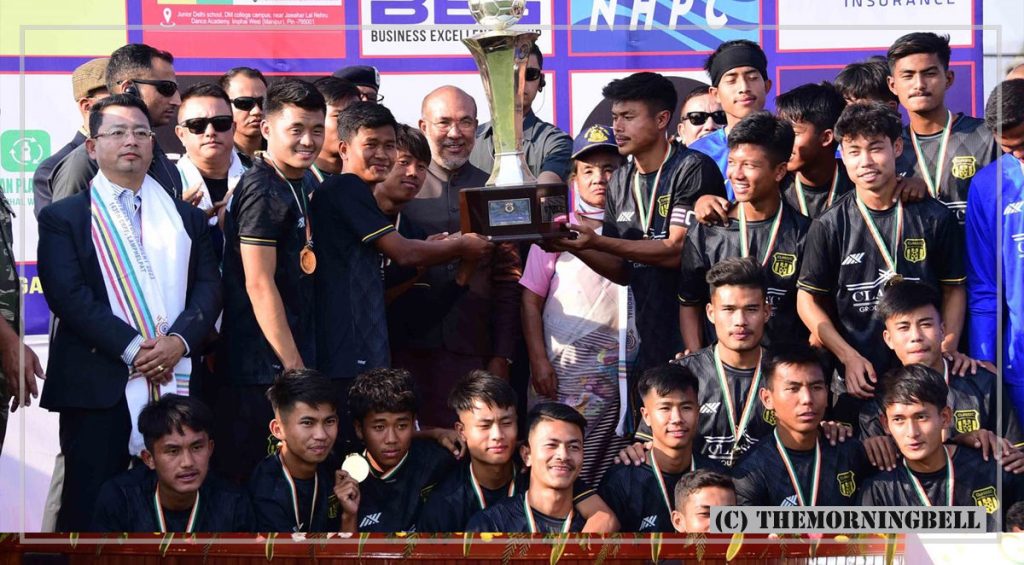 Imphal (DIPR): Stating that the future of Indian football lies in Manipur, Chief Minister N. Biren conveyed that 45 players from the State are playing in I-League Football Tournament representing different football clubs. He made the statement while addressing the gathering at the closing ceremony of 13th Shaheed Manoranjan Singh Memorial State Open Football Tournament- 2003 at SAI Sports Complex, Takyel on Sunday.
Continuing his speech, the Chief Minister stated that many football players are representing the Indian team and as such the State Government has made allocation in the budget to establish a Football Academy in the State. He mentioned that Manipur, with its little population, has been contributing a lot in the field of games and sports.
Stressing on the desire to upgrade the tournament to national level, he asked the CRPF to give a proposal for the same. He also asked them to organise the tournament at Khuman Lampak main stadium from next year.
Maintaining that the State Government is giving priority to some disciples considering the physical structure of the people of the State, Biren informed that seven grassy football fields would be developed in the State and funds had been allocated in the budget for the same.
He also informed that the State would be hosting a Tri-Nation Friendly Football Tournament and added that the State has got this opportunity because of the achievements brought by our players.
Final match of the tournament was played between Sagolband United and Classic Football Academy. Classic Football Academy won the tournament by beating Sagolband United 7-0.
During the programme, the Chief Minister also honoured Ng. Memcha, mother of Shaheed Manoranjan Singh.
Chairman, Manipur Electronic Development Corporation S. Kunjakeswor Singh, Director General of Police, Manipur P. Doungel, Chairman and Managing Director of BABINA Group Dr. Thangjam Dhabali and senior officials of CRPF also attended the closing ceremony among others.