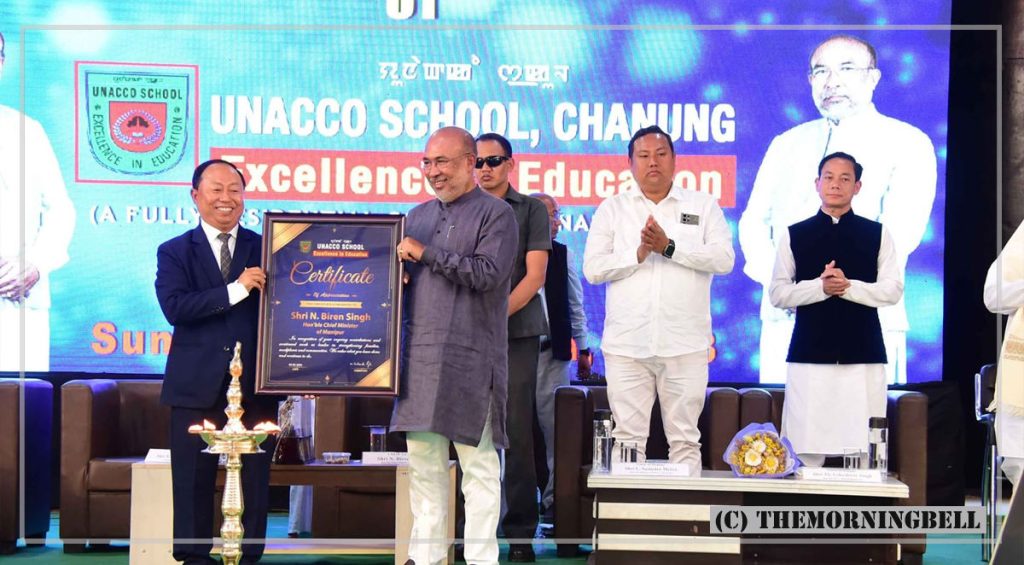 Imphal (DIPR): Chief Minister N. Biren on Sunday inaugurated UNACCO School located at Chanung, which is a fully residential co-educational school. Works Minister Govindas Konthoujam, Public Health Engineering Minister L. Susindro Meitei, Manipur Handloom and Handicrafts Development Corporation Ltd Chairman MLA Kh Ibomcha, MLA of Khundrakpam AC Th. Lokeshwar and CMD, NEDFi PVSLN Murty also attended the inauguration programme.
Speaking on the occasion, N. Biren Singh highlighted the importance of education in the development of a society, saying that education had made it possible for our State to compete with others.
Mentioning Prime Minister Narendra Modi's mantra of Nation First, he said that the education we acquired should be used for the betterment of our nation. There would be no meaning of education, if it is used for destruction of our society, he added.
The Chief Minister continued that education is very comprehensive and it includes acquiring all knowledge which is useful for living a meaningful life.
He maintained that Manipur has achieved a new stage with quality, commitment and professionalism in working style.
He stressed that involvement of the private sector is important for development of the State and the State Government had taken up different development works in coordination with private players.
He also appreciated the team of UNACCO for coming up with a residential school of international standard. The Chief Minister said that Manipur has changed a lot in the field of development and the credit must be given to the people of the State for their support.
The Chief Minister further announced that the State Government would try to come up with the All Manipur Entrepreneurs Award from next year.
Administrators, Entrepreneurs, Officials of UNACCO School and students also attended the programme among others.